Plans for newbuild windfarm vessels have been terminated by a UK marine technology firm.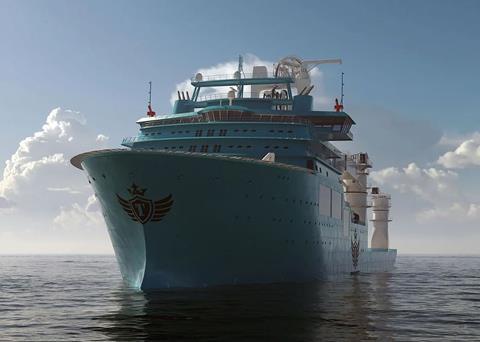 Triumph Subsea Services said it has formally cancelled the December 2020 Letter of Intent that was issued to London Stock Exchange-listed firm InfraStrata plc regarding one firm and one optional ST designed 200m x 35m Windfarm Development Vessels (WDV) due to be built by InfraStrata subsidiary, Harland & Wolff (Belfast) Limited.
The company said its "decision to cancel the LoI has not been taken lightly" but it was left with "no other option".
No formal quote or build schedule
Referencing InfraStrata's stock exchange release from 10 December 2020, Triumph said it has "not received any formal commercial quotation and or vessel build schedule, therefore based on not receiving this vital information that forms part of a shipbuilding contract, no contract could be agreed or signed".
Referring to InfraStrata's stock exchange release from 4 May 2021, Triumph said: "The requirement to execute 'Placing and Open Offer' to raise funds to be able to execute a contract the size of Saipem's clearly demonstrates that InfraStrata may not have been financially capable of executing the contract with Triumph."
A section of InfraStrata's stock exchange release from t30 June 2021 said the LoI "has been set aside for the time being as we do not have a high enough level of confidence in this project progressing to speculatively invest heavily in it at this time".
Triumph stated in response: "Triumph has cancelled the LoI and has no intention of executing any vessel builds with InfraStrata and or any of its shipyards."
"The other key point is that this was posted on the London Stock Exchange website at 0700hrs on 30th June 2021, this was before the validity expiration of the LoI and without stating that Triumph had actually issued a termination letter to InfraStrata."
InfraStrata strikes back
In a statement published on its website on 5 July, InfraStrata countered: "We note that in a recent statement Triumph Subsea Services Ltd (Triumph) have made various claims amongst which they claim to have terminated the Letter of Intent (LOI) entered into in December 2020 for a new build vessel.
"As noted at the time of updating the market, the LOI was non-binding on either party, had an expiration date of 30 June 2021 in the event a contract was not entered into, and therefore, by default there is nothing to terminate. Further, Triumph were informed by the Company in April 2021 that the Company had set the LOI aside following due diligence on the credibility of Triumph's proposal."
By Rebecca Jeffrey