The Netherlands based International Association of Dredging Companies (IADC) has added Facts About Dredging & Safety to its useful Facts About series, all of which are available free online and in print.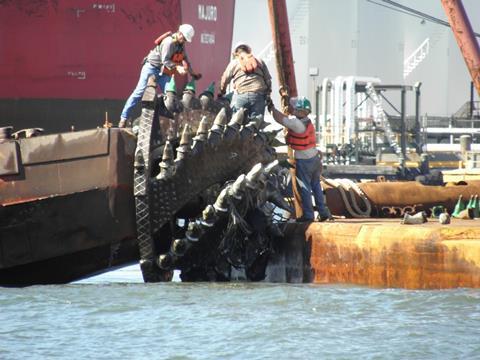 Safety is always uppermost on the minds of dredging contractors. As part of the maritime community, dredging vessels, contractors, crews and support staff on land, strive to follow international safety standards as well as local and regional requirements at all times. But the safety rules and regulations that have developed over time are complex.
This executive summary gives the background of why and when the seafaring nations of the world decided to establish safety regulations and how these international safety regulations have evolved. It explains the role of the International Maritime Organization (IMO), present day systems of certification and guidelines for implementation and how these apply specifically to maritime construction and dredging. The SOLAS, ISPS Code, the ISM Code and OHSAS are defined and compliance methods are explained.
Given that dredging operations employ heavy machinery and require highly trained personnel, avoiding risks, limiting the chance of human error and unnecessary incidents will always be a concern. To achieve a 'no injuries, no accidents' goal is a challenge that all parties to a dredging project take seriously.
Paraphrasing an old adage, one might say, "Safety is its own reward". Thorough training, compliance with international standards, vigilance regarding quality assurance and health, safety and environment (QA-HSE) results in less on the job downtime, fewer accidents, healthier employees, improved performance and the delivery of quality projects. Facts About Dredging & Safety gives a quick guide as to how these goals are achieved.
All Facts Aboutare downloadable in PDF form at the IADC website: www.iadc-dredging.com. Printed copies can be ordered by contacting the IADC Secretariat: info@iadc-dredging.com.