German hydraulic engineering concern Colcrete-von Essen has won court approval for management efforts to restructure after posting insolvency.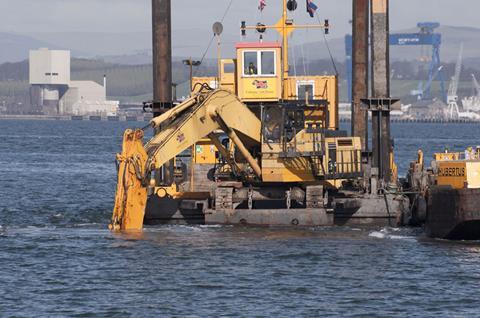 Colcrete, international specialists in coastal protection and harbour and breakwater construction, reported "liquidity problems due to massive difficulties in the execution of a large project in Scotland". It applied successfully to a court in Oldenburg, North Germany to self-regulate with its own management.
Colcrete did not identify the Scottish project but has been involved with the Forth Replacement Crossing Project. Raymond Kirk at Transport Scotland said the firm supplied marine plant and equipment, excavated caissons and carried out dredging work but was no longer involved.
Colcrete itself said "unexpected additional expenses were necessary in order to be able to provide the services offered and to compensate for process difficulties caused by subcontractors". It also said the project had tied up internal management capacities for a long time "so that too few follow-up orders had been generated and sales had declined significantly".
The company re-organisation is being bolstered by restructuring specialists brought in to draw up insolvency and investment plans. The court also appointed maritime industry restructuring expert Hendrik Heerma as provisional administrator. MD Christoph von Harling said "self-administration gives us the opportunity to make the Colcrete group secure for the future. All orders are being carried out as planned".
Business was reported continuing at Colcrete, which has annual sales of €25-30 million and is active in northern Europe and Scandinavia as well as offshore in the North Sea and the Baltic.
By Tom Todd