The launch of a vessel in London has marked the start of a new partnership between a US-founded ridesharing company and a river bus service.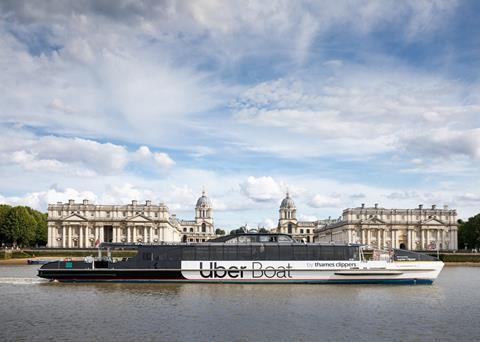 This partnership between Uber and Thames Clippers encourages people to travel by boat across the city and has been celebrated with the sailing of the first branded Uber Boat by Thames Clippers on the River Thames.
Sean Collins, Thames Clippers co-founder and CEO, said: "We're excited that in this new world we are able to offer a new way of travelling through the capital by enabling multi-modal transport with a continued focus on great customer experience. This partnership reflects the resurgence of the river and we're looking forward to welcoming new passengers on-board to enjoy the unique benefits of navigating London safely by taking to the Thames."
Easy to use
A fleet of 20 boats on the River Thames, with departures from 23 piers across London from Putney in the west to Woolwich Royal Arsenal in the east, will be available for commuters and leisure travellers. Uber is rolling out the service on its app, meaning users can purchase tickets in advance to guarantee a seat and then use QR technology to board. The payment will be processed using the Uber account details.
Passengers will still be able to purchase tickets via the existing Thames Clippers' sales channels, including touching in and out with contactless or Oyster to pay as you go and via its own ticketing app.
The service will continue to be fully operated by Thames Clippers.
By Rebecca Jeffrey