A port terminal development in the UK has provided major employment and training opportunities.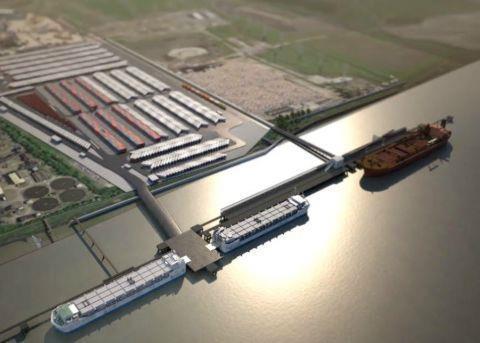 Construction company GRAHAM said Forth Ports' GB£200m Tilbury2 terminal, an extension of the port operator's Port of Tilbury in London, operated by Port of Tilbury London Ltd (PoTLL), offers an onsite training hub established to encourage local engagement in the project and introduce local people to careers in construction.
A number of work placements and work shadowing opportunities have been provided​ at the terminal, due to open this year. Engineering apprentices have also been employed at the terminal.
"The terminal will promote local jobs resulting in a net increase from 8500 FTE to 11500 FTE jobs currently supported by PoTLL. Of these 700 are direct PoTLL employees and this is expected to increase by several hundred as the new facility becomes operational," said GRAHAM.
Construction work
Marine work managed by GRAHAM includes a 300Lm sheet pile wall; 15nr new berthing Dolphins; installation of a 350T steel bridge, linkspan and 60x40m pontoon bridge; and the dredging of 110,000m3.
Environmental protection
The former Tilbury Power Station site supported 1,400 species of invertebrate, among them 159 species of conservation importance and 31 which are rare or threatened. Significant works was undertaken to translocate species to a newly developed ecological compensation site to ensure these important species were not threatened further.​
By Rebecca Jeffrey