The first and only offshore wind turbine installed in France has set new power generation and capacity factor records, strengthening the emerging offshore floating wind industry.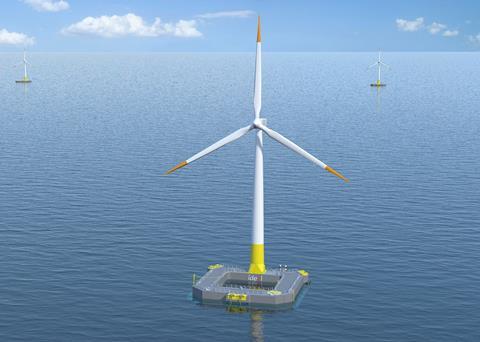 Ideol's 2MW 'Floatgen' floating wind turbine, installed at the Sem-Rev test site off Le Croisic, produced 14% more power in 2020 than in 2019, reaching an annual total of 6.8GWh. This means the wind turbine has produced a total of 12.8GWh in two years.
"Moreover, a new capacity factor record was reached in February 2020 with more than 66%. The wind turbine faced very challenging weather conditions, with maximum wave heights of nearly 11 meters in February 2020," said Ideol. "The excellent performance and seakeeping performance of Ideol's patented Damping Pool technology are thus once again confirmed."
Three-year deal signed
Following these results, Ideol has confirmed its partnership with Ecole Centrale de Nantes, which operates SEM-REV, the site on which Floatgen is installed, and signed an agreement which extends the operation of the floating wind turbine by three years. These three additional years will allow Ideol to pursue its research activities in order to further optimize its solution.
Built around a European consortium of seven partners, Floatgen is being supported by the European Union as part of the FP7 programme.
Ideol has a second floating wind turbine in operation in Japan, off Kitakyushu. The company's 'Damping Pool' design is compatible with all existing offshore wind turbines.
Recent offshore wind commercial projects include a 250MW commercial farm in southern Brittany, for which a call for tenders is expected soon.
By Rebecca Jeffrey