With a lead time of only 6 weeks, a client of a UK marine engineering firm had an urgent request to fit out a 120-tonne catamaran diving tender, 'Shoreline Engineer', with new deck cradles and winches.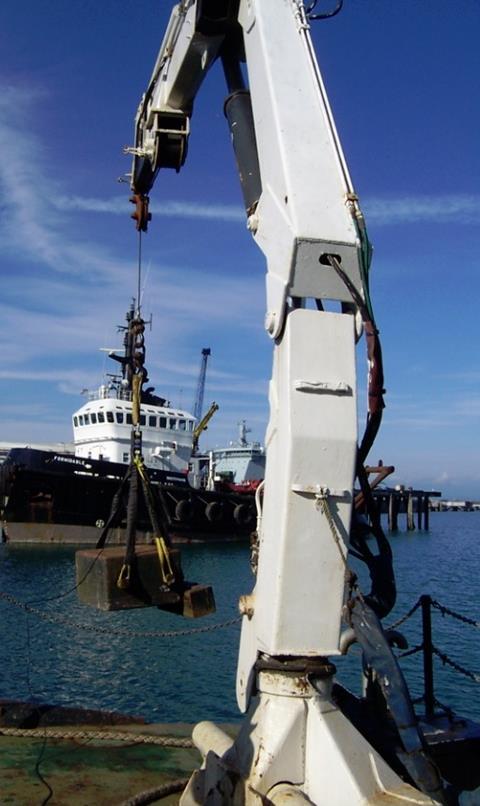 She needed to handle and tow the customer's new equipment for development trials in and out of the water, all from the port quarter. The problem was her crane was positioned amidships to starboard; so C Data Marine needed to advise whether to install a second crane, or move the ship's existing crane aft.
A meeting was held to discuss the requirements of project and identify the likely problems. The key need was to make these structural changes to the vessel in a safe and compliant manner, in order that that the MCA's Cat.2 coding was still met. It was clear from the outset that the proposed changes would have noticeable effects on both the structural integrity and the stability of Shoreline Engineer.
With the very short time frame to the start date of the trials, the only realistic option was to move the existing crane. Purchasing and fitting a second crane would have taken longer, even if one was available. However, the problem of the strength of the deck and underlying structure still needed to be addressed.
C Data Marine's team of experts, Clive Robinson, Bob Barnes and John Hall, attended on board and carried out a structural survey of the stern, concluding that the quickest and safest method would be to replace the port engine removal access plate with a heavy 20mm plate serving as the crane base plate. This new plate was bolted down to twin, longitudinal deep beams, supported by cut frames and watertight bulkheads. Both the deep beams in way of the access plate, and the underside of the replacement mounting plate were to be reinforced with webs; and the new plate secured with UTS bolts. Structural calculations showed this approach to provide more than adequate strength for the weight of the towed equipment.
Quest quickly set to and fabricated the new base and strengthening, moved the crane and ran temporary hydraulic pipes, in time to carry out a new load test, and re-inclining experiment. C Data Marine re-calculated the six crane loading conditions produced as a supplement to the stability book from six years before, which remained compliant with the MCA stability criteria.
Subsequently, Quest were able to move the crane back to the normal place, and replace the ship's own winch, leaving the kit of parts readily available to repeat any similar task in future.
By Jake Frith