For his new Damen Shoalbuster 2308 tug Baloe, featured in an MJVessel Launch last month, owner/operator Jack van Dodewaard of the Netherlands'' Herman Sr BV wanted to upgrade the capabilities of Herman, the boat he was replacing. When it came to a powerful deck crane, he opted for an HS Marine telescopic knuckle boom model type AKC 115 LHE4, supplied by Promac BV.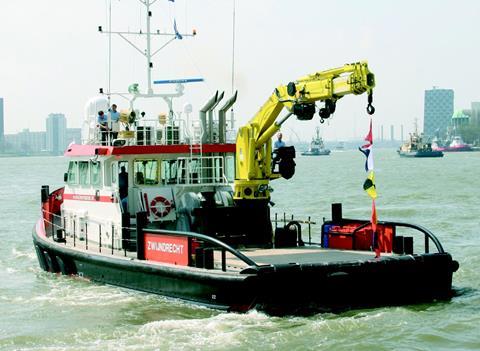 The new crane model was designed in close cooperation with van Dodewaard and is capable of handling loads of up to 4,400kg at an extended outreach of 15.5m. The lifting capacity increases to 20,800kg at a reduced outreach of 4m.
The powerful slewing gear allows the crane to operate at full capacity with up to 50 heel.
In addition, the crane is equipped with a hydraulic winch capable of lifting 4,400kg in a direct pull configuration.
The new HS Marine crane has an unlimited slewing range and is operated from a platform aside the crane, giving a full and safe view over the working area. The crane delivers power with precision, as well as versatility, and speedy manoeuvrability. Designed to withstand the worst of load impacts and other ravages of a hard working life, its components have been treated for protection against the harsh marine environment using flame metalisation of the construction, stainless steel piping, cathaphoresic treatment of supplementary parts and a high quality paint system.
MJInformation No: 21902