A new condition-based monitoring (CBM) system features technologies designed to maximise engine performance in all conditions, under all loads, while saving fuel.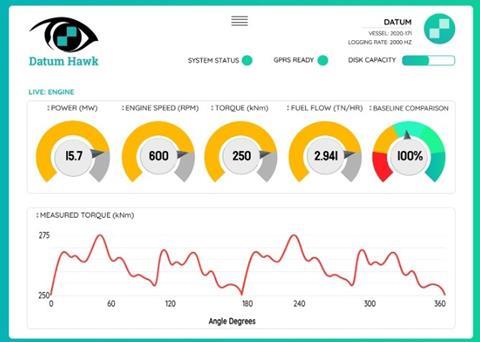 Datum Electronics' Datum Hawk, due to be globally launched on 1 June, delivers dynamic data at rates of up to 2000sps. This offers a unique insight into the entire shaft line, while producing averaged data for SFOC in parallel.
Mark Gladdis, marine product manager at Datum Electronics, explained: "The dynamic torque sampling enables us to observe what is happening with every cylinder stroke, monitor the condition of the engine and predict events before they occur. Being an integral part of the shaft, Datum Hawk is able to detect changes in the live rotational torque signal significantly earlier than any off-shaft sensor."
Installed on-shaft
Datum Electronics said that unlike other CBM systems on the market, Datum Hawk is installed directly on-shaft as part of the vessel's shaft line, providing significantly earlier detection of any potential failures or downtime, well in advance of any off-shaft sensors (such as vibration or optical sensors) and at much higher amplitudes.
Additionally, by using the latest Artificial Intelligence (AI) & machine-learning techniques, the system can observe every cylinder strike through the dynamic torque data profile and deliver the engine condition diagnostic in real time. This data, presented in a visual format onboard of the ship, as well as onshore, enables ship owners and fleet operators to operate a vessel to its ultimate potential.
Pre-orders of Datum Hawk mean that 40 vessels are already enrolled to use it.
By Rebecca Jeffrey