A metocean data provider for the marine sector will collaborate with a UK university on the development of an application to produce the most efficient routes for vessels and reduce GHG emissions.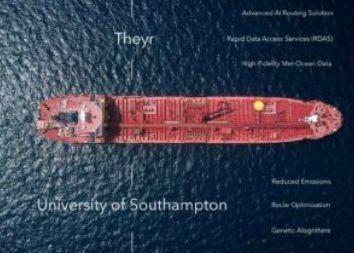 Theyr Ltd has joined the UK's SPace Research and Innovation Network for Technology (SPRINT) business support programme and will work with SPRINT partner, the University of Southampton on the vessel routing application project.
David Young, CEO of Theyr, said: "We're delighted that this SPRINT project has been given the green light."
The SPRINT project will focus on the real-time exploitation of space data used in the development of voyage optimisation solutions for commercial vessels. It will combine high fidelity Met-Ocean forecast data with the latest genetic algorithms to create the module.
The University of Southampton will provide Theyr with expertise in best-in-class genetic algorithms and optimisation to exploit increasingly higher fidelity satellite data. Theyr will also use the University of Southampton's IRIDIS5 supercomputer, the UK's largest academic supercomputer to speed up the verification process.
Mr Young added: "Combining our expertise with the substantial knowledge and resources of the University of Southampton will facilitate the future sustainability of commercial shipping by effectively reducing fuel costs and green house gas (GHG) emissions within the industry through the use of AI and high-fidelity MetOcean data."
The project will be funded by a grant from the GB£4.8m SPRINT programme.