The Norwegian pump company Framo has developed an oil skimming system based on its well established TransRec platform that can be tailored to meet different operational requirements writes Dag Pike.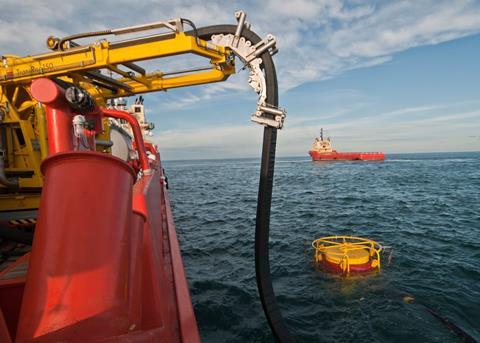 With oil spills occurring in a wide variety of different environmental conditions Framo recognised that oil recovery systems needed to be tailored to the prevailing conditions. Their new product will allow customers to specify a range of options to adapt and change the recovery characteristics of their systems.
The area sales manager for Framo, Jørgen Brandt Theodorsen commented, "Regardless of the offshore environment or the characteristics of the oil, the recovery and transfer system provides the capabilities you need to recover more oil when time is not on your side".
The base model of Framo's new system which underpins the newer model has been supplied to over 250 installations and contains all the essential equipment and features that are required for oil recovery operations under most operational conditions. This includes a portable electric remote-control panel that allows operators to be positioned on board the mother ship to have the best view of the operations.
With the new advanced system, operators can add control and sensor packages that are designed to offer greater optimisation of the oil recovery process and prolong the operational windows of equipment operating under harsh conditions, the company said.
The Framo TransRec system has a range of skimmers designed to handle different types of oil spills. The Framo Wier Skimmer, which is the most widely used, is designed to operate in conjunction with oil booms and it can recover large quantities of medium viscosity oil. Then there is the Framo HiVisc Skimmer that is designed to recover very thick oils with a high viscosity. Finally there is the Framo Polaris Skimmer that is designed for oil recovery in ice infested waters which can present a growing challenge.
The TransRec systems developed by Framo are claimed to be the longest-established oil skimmer system on the market. The products of the Framo Group cover a wide range of pumps that are purpose designed for shipping, aquaculture and the offshore industry and the company is part of the the Alfa Laval Group. Framo has also combined with Maritime Partner, Norbit Aptomar and NorLense to create an oil spill recovery vessel group to provide oil spill response solutions.