Following years of research, development and testing, Barrus is adding a new range of electric outboard motors to its Marine line-up.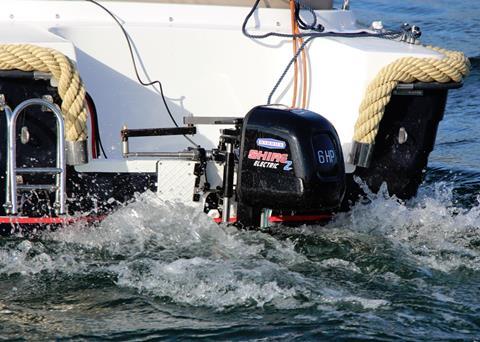 In this first wave, three outboard engines are available in 6hp, 10hp and 20hp variations. These 48V outboards have a variable speed range that can be locked so they suit commercial and hire-fleet use perfectly.
The battery is a separate unit external to the motor and sold separately. Unlike other small outboards that have the motor underwater directly driving the propeller (where the oil-filled lower unit would be on a gasoline outboard), these use a belt drive system keeping the underwater drag down. Barrus also claims that this belt is lower maintenance compared to an oil-filled lower unit.
With an adjustable leg length from short to long shaft, the Shire electric outboards are ready to pair with a range of vessels and the outboard tilt lock and adjustable transom angle position make rigging easy.
Shallow or dirty water is simply not a problem. The outboards have coolant reservoirs with a re-circulation pump housed within the leg, so no dirt or sand enters the system. The motors are compatible with Mercury Marine prop shaft spline systems making propeller selection or replacement easy.
Additional options are also available to enhance performance and ease of use including battery options such as lithium ion batteries and multiple battery packs that can be linked.
Visit Barrus at Seawork 2020 on stand Q18