Over the last six months, twice as many vessels have demonstrated suspicious behaviour regarding sanctions as have been put on sanctions lists.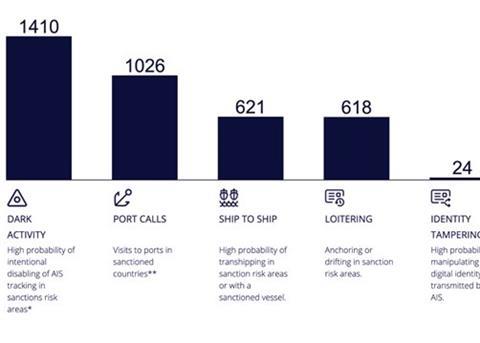 This is the latest data from maritime analytics company Windward, which highlighted the scale of the task compliance teams face in vetting vessels. The release of the data follows the sanctioning of Rosneft Trading by OFAC.
Ami Daniel, CEO of Windward, said: "Once a business like Rosneft Trading hits the sanctions list, then it is easy to spot. Vessels violating sanctions are constantly being added to sanctions lists but there are many out there who have not yet been identified.
"Regulators now expect organizations to apply in-depth behavioural analysis to screen for suspected sanctions evasion. Our analysis shows that twice as many vessels demonstrate suspicious behaviour as are on sanction lists. That is a huge number of vessels to investigate."
There are key five patterns of activity that are consistent with deceptive shipping practices and have been identified in recent U.S. (OFAC) and UN advisories. 'Dark activity' accounted for the most deceptive activity, this is described as a high probability of intentional disabling of AIS tracking in sanctions risk areas.
This was followed by visits to ports in sanctioned countries; a high probability of transhipping in sanction risk areas or with a sanctioned vessel; anchoring or drifting in sanction risk areas; and a high probability of manipulating digital identity transmitted by AIS.
By Rebecca Jeffrey