The Delta Multi-Purpose Pusher Tug (DMPT) SMIT Bronco was launched at the IHC Holland Merwede yard at Sliedrecht in the Netherlands last month by being lifted into the water.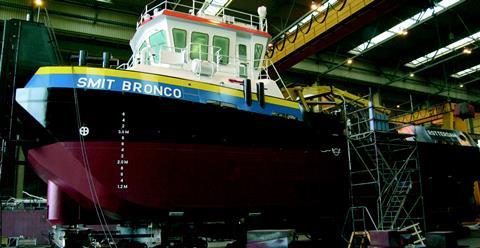 The IHC Holland Delta Shipyard received an order for the engineering, construction and delivery of three such vessels in January 2005 from SMIT Transport Europ BV. The other two DMPTs are currently under build and will be delivered in July and August of this year.
This 25.8m LOA DMPT 2500 can be used for a wide range of marine operations in sheltered, shallow waters and in the open sea up to 200nm. Duties include pushing, pulling, buoy handling, dredging support, anchor handling, the transport of goods and personnel as well as fuel and water supplies.
The technical concept combines performance with operational reliability. There is a raised and spacious superstructure above the half raised forecastle deck forward and a large work deck aft. The superstructure is placed well inboard to prevent it from being damaged when the vessel is moored alongside high objects when rolling, and also to create a safe walkway to the foredeck.
All three vessels will have a fixed wheelhouse.
Propulsion is by two main diesel engines, each driving a fixed pitch propeller in a fixed nozzle through a reverse reduction gearbox and in line shafting. To improve manoeuvrability in difficult situations, a 150kW bow thruster is fitted which can be controlled from the wheelhouse.
The vessel has a free running speed of 10 knots and a bollard pull of 25 tons.
Deck equipment consists of a 70 ton hydraulic anchor handling winch and a 140t/m hydraulic deck crane. The crane can be positioned on the starboard side of the towing bit. Additional deck equipment consists of towing pins and a wire stopper, a towing hook and a heavily constructed stern roller.
MJ Information No: 21725