Seawork again demonstrated its growing international significance last month when Dutch builders Damen Shipyards chose it as the venue for signing a letter of intent to build a Shoalbuster 2208 tug for fellow countryman (and woman) Jack and Wendy van Dodewaard, owner/operators of Herman Sr BV.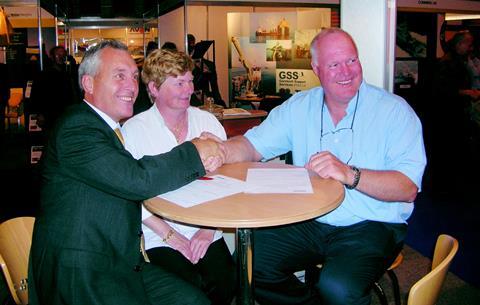 The vessel is due to be delivered on Jack van Dodewaard's 50th birthday, on 5 April next year.
Herman Sr is a long established, family run two boat operation.
The new tug will replace Herman Sr's present boat, Herman , a2002 built Shoalbuster 2208 which is currently working in the Black Sea. Herman Sr also operate Tarka , a Shoalbuster 2609 which was given Vessel Launch coverage by Jack Gaston in the May 2004 MJ .
Tarka is engaged in long term marine construction and dredging support works in the waters off Dubai.
The newbuild represents an upgrade of vessel capabilities in light of operational experience.
Like Herman , it will be powered by twin Caterpillar 3412 marine diesels but the combined output will rise from 1,460hp to 1,720hp.
Herman 's 65 t/m Effer crane will be upgraded to an 80t/m also by Effer and two single drum winches will be used in place of Herman 's split drum.
MJ Information No: 20814