SMIT Transport Europe BV has placed an order with the IHCHolland Delta Shipyard for the construction of three multipurpose tugs. The design for the new vessels, designated the Delta Multi Purpose Pusher Tug 2500 (DMPT 2500), is intended for a wide range of marine operations in sheltered, shallow waters and open sea up to 200nm offshore. Their duties will include pushing, towing, buoy handling, dredging support, anchor handling, transportation, and the supply of fuel oil and water - mainly on the inland waterways around Europe.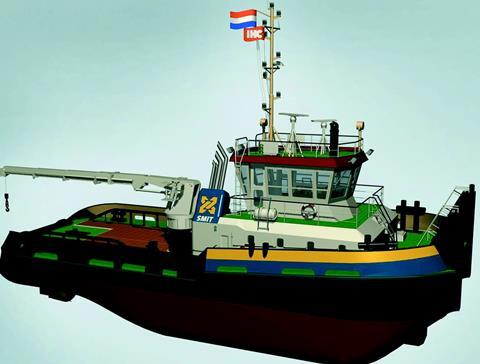 Among the owner's prime requirements are a good performance coupled with operational reliability. The design incorporates a raised and spacious superstructure above the half raised forecastle deck forward and large work deck aft. A superstructure placed well inboard prevents damage when the vessel is moored and rolling alongside high objects, and to create a safe walkway to the fore deck.
The first two vessels will have a fixed wheelhouse; the third will embody an elevating wheelhouse (rising up to 5m) to give improved forward visibility when pushing barges. The tugs will have an overall length of 25.40m, a moulded breadth of 10.00m and depth moulded of 3.45m with a draught (amidships) of 2.72m.
Two diesel main engines producing a total of 1250kW (1698 bhp) will drive fixed pitch propellers in fixed nozzles to achieve a bollard pull of over 25 tonnes. A hydraulically driven bow thrust unit of 150kW will improve manoeuvrability in difficult situations. Deck equipment will comprise, a hydraulic anchor handling winch with a capacity of 70 tonnes and a 140 tonnes/m hydraulic deck crane. The crane will be positioned on the starboard side of the towing bitt and other items of deck equipment will include, towing pins and a wire stopper, towing hook and a heavily constructed stern roller.