It was announced early in August, with immediate effect, that the managing director of Svitzer UK, Mark Malone, is to take up a similar role with the Svitzer Group in Australasia, based in Sydney. Mark took up the post in the UK in 2009 and, in addition to his work of managing the entire Svitzer organisation in Britain, was subsequently appointed chairman of the British Tugowners Association (BTA). During his tenure at the BTA he took a proactive approach and was party to the formation of the 'Harbour Towage Panel', established by the UK Chamber of Shipping. He has been replaced in the Svitzer Teeside headquarters by Robert-Jan van Acker, who joined Svitzer 14 years ago and has held senior roles in both the Middle East and Europe, most recently with Svitzer Salvage.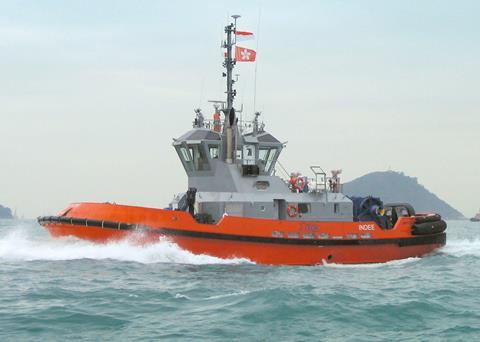 Landfall Transport & Towage and Neptune Marine Services have taken delivery of their new, long awaited, Neptun 11. This latest addition to the company's fleet is a 36m twin screw tug with a 42 ton bollard pull and a sister ship to Neptun 9 (Maritime Journal May 2011). The tug was built in the Panyu Shipyard in Guangzhou, China and is on its delivery voyage with a tow from Indonesia to the Netherlands, where a 170 t/m crane will be fitted upon arrival.
The 34.5m Voith tractor Fairplay 28 has been repainted in the livery of Multraship following a decision by Fairplay Towage of Hamburg to sub-charter the tug to their joint venture partner in Terneuzen. Fairplay 28 will be available to undertake work in the Schelde and Rotterdam areas as required. The tug was built in Spain in 2006 as the Turm and has since been managed by Oceal Srl of Italy. It has been chartered to German operators URAG as the Lesum and Wulf 7, and more recently with Fairplay. This popular vessel has MAK main engines of 7,200 bhp and a bollard pull of 80 tons.
During this summer (2011) Cheoy Lee Shipyards Ltd and Robert Allan Ltd celebrate a major milestone in their joint collaboration to design and build the Z-Tech tug. Since the very first vessel, Indee, was completed in 2004 Cheoy Lee has been responsible for the construction and delivery of 50 tugs, an average of over seven tugs per year. That total includes 40 Z-Tech 6000 and Z-Tech 6500 Class tugs. The latest of the latter series, the FARFÁN, was launched on 14 June and departed for service in Panama in mid-August following the Esti delivered in July.