Netherlands-based Seacontractors are completing the acquisition of six B-Class tug/workboats, swapping the grey hull colours of previous owner Smit to the black hull of Seacontractors.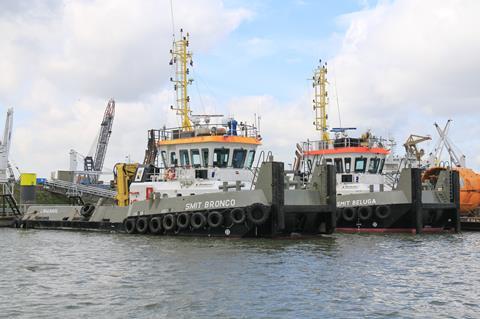 The impending sale of the six vessels was mentioned briefly in August MJ and with transition to their new owner underway it is worth re-visiting this interesting series of multipurpose vessels designated DMPT 2500 (Delta Multipurpose Pusher Tug) built in two batches between 2006 and 2010.
Originally named Smit Bronco, Bison, Barracuda, Bulldog, Buffalo and Beluga they are now changing the 'Smit' prefix of their name for the 'Sea' of Seacontractors. The first three in the list were built by IHC Holland Delta Shipyard in 2006 for Smit Transport (Europe) so as such actually started out life with black hulls before gaining the grey livery of Boskalis on their taking over of Smit. The second batch of three above were completed in 2009/2010.
These B-Class vessels are interesting designs in that while their layout is largely that of a conventional small tug/workboat the heavily strengthened square push bow reminds one of pontoon-shaped 'Multi Cat' style workboats with offset accommodation and open bow and stern areas. Closer examination however clearly puts these in the former bracket, at least aesthetically.
They are 25.8m LOA with 10m beam and 2.6m draught. Twin Caterpillar 3508B engines develop 1,492bhp total driving fixed-pitch propellers with performance figures of 28tbp and 11 knots. Kraaijeveld provide a towing/anchor-handling winch with capacity for 700m and 200m of wire respectively, a 35t SWL towing hook is also provided. The stern roller is 2.2m by 0.8m and rated at 100SWL and Heila provide a HLRM 140-3S hydraulic deck crane with capacity of 26t at 5.65m and 10t at 12.15m
Classed by BV with the notation HULL, Mach Tug, Unrestr, AUT-UMS; ICE Class 1D, tank capacities include 60m3 of fuel and 33m3 of fresh water, accommodation is provided for six persons.
By Peter Barker