Netherlands shipyard TABmarine has announced a contract for the new building of two flattop barges for UK based Osprey Ltd., a heavy transport and offshore energy logistics company.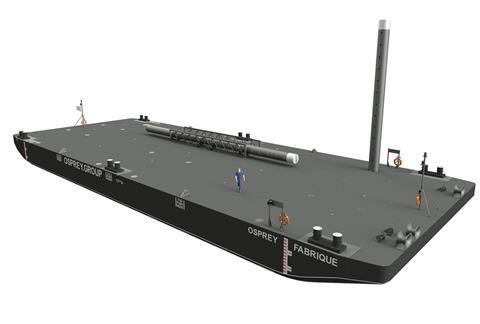 The barges are 50 metres in length, on a beam of 18.8 metres with a depth of three metres. Both barges will have a flush deck with a deck strength of 20MT/m2.
Both barges are equipped with two spud poles of 23 metres in length and 900mm diameter. The barges will be named Osprey Bouwer and Osprey Fabrique and will be used for load outs, interconnection projects, demobilization projects and all other kind of barging works.
Design of the barges has been performed in the Netherlands and class notation will be 'ABS unrestricted sailing area' and will be delivered to Osprey Ltd. In Q1-2021 from TABmarine's headquarters in Rotterdam's Waalhaven.
By Jake Frith