Damen is set to launch its first composite Water Bus shortly as its first prototype is set to undergo sea trials.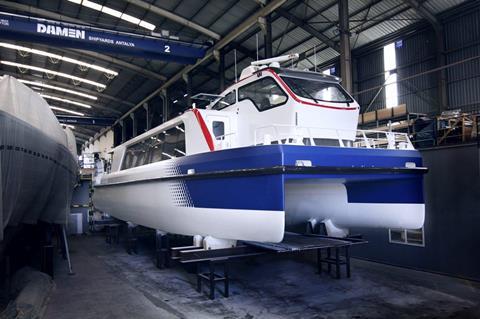 The company said that its new Water Bus is built so that customers can benefit from reduced fuel consumption, less maintenance, no corrosion or fatigue problems. At the same time it has been designed to limit noise and vibrations, making it much more comfortable for passengers.
Marcel Elenbaas, Damen Design & Proposal Engineer - Fast Ferries, said: "The Damen Water Bus is the best fit for highly congested urban areas, providing a simple and efficient way of making use of natural waterways and, consequently, integrating into the public transport network. Hence the reason we took the decision to invest in developing this new series."
He added that the water bus has a slender hull, less weight than a traditional aluminium vessel and low resistance, producing only a low wake to ensure that the vessel is fuel efficient. It can travel at up to 21 knots or 40 km per hour and carry up to 100 passengers.
This next generation Water Bus is also very strong because it is built with high quality vacuum infusion technology, creating a "difficult to penetrate closed cell, epoxy sandwich structure", he said.
It's equipped with two, forward facing, double-screw podded propulsion units, which reduce vibrations, besides offering low fuel consumption. Additionally, the exhaust of these units is under water, further reducing noise and vibrations.
Damen has a long history of producing water taxis, water buses and ferries and is capable of offering the complete infrastructure system for them to include jetties and bunkering stations, as well as training and services packages.
This Water Bus is the first vessel for public transportation produced at Damen Shipyards Antalya, which specialises in composite professional workboat series suitable for heavy-duty operations.
Damen has another Water Bus hull in stock ready for outfitting.
By Anne-Marie Causer