Ukrainian shipbuilding and repair yard Nibulon is currently in the process of constructing three inland waterways tugs along with accompanying barges.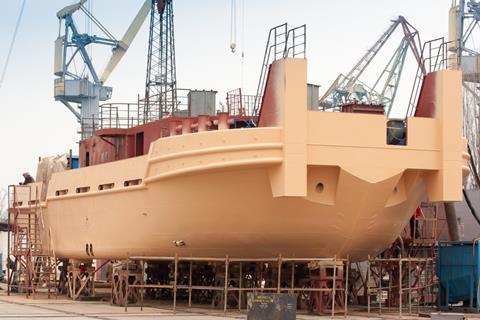 With much of the global tug building market dominated by a handful of major building yards nowadays your correspondent had to search far back in the archive for mention of Nibulon. We will take a closer look at this multi-disciplined company but first we examine this new project designated 121M.
The tugs are described as being: 'a continuation (with design improvements) of the implemented 121 project vessels designed for operation on inland waterways of Ukraine.'
Photos of the three 1,200hp vessels illustrate a 'pontoon' shaped pusher-tug style of design and the first of the trio, given the project name Yurii Makarov (named after a famous Mykolaiv shipbuilder) is now at the stage where outer plating of the hull has been cleaned and painted following testing of the accommodation for tightness and the integrity of welded joints by the yard's engineers.
The next stage is completion of pre-insulation equipment inside the vessel and continuation of pipeline installation. Work is also continuing with the propulsion units and fabrication of a column to elevate the wheelhouse. Next stages include outfitting works once the tug has been launched.
Similar progress is being made with second vessel in the series with hull fabrication completed and internal foundations put in place. Vessel number three is at the stage where sections one to three (parallel midbody) and section four (afterbody) are now being assembled. All three tugs are due to commence operation by 1st July this year 'before the new marketing year'. In parallel to the 121M tug project Nibulon is also in in the process of building eight non-propelled barges of the B2000 project intended for operation on the Southern Bug river.
Looking in detail at Nibulon itself, its shipbuilding and repair activities are clearly a small part of the Mykolayiv, Ukraine-based company and intended to support its main activities in the agriculture sector, indeed the company's website contains images of combined harvesters as much as shipbuilding activity. It is one of the region's largest domestic producer and exporter of agricultural products including: wheat, barley, corn, rye and sunflower. Gradual expansion has seen it grow its geographical reach, now having 22 production units in nine regions of the Ukraine.
The shipyard can trace its history (under different ownership) back to 1886 when the main activity was ship repair. Over its history, the yard has produced a wide variety of craft from barges and floating docks to yachts. In August 2012 Nibulon acquired the assets of the Liman Shipbuilding Plant creating the Nibulon Shipbuilding company which was from then on to produce the series of pusher tugs and non-propelled barges that are associated with its agricultural business.
By Peter Barker