During the Dutch national Sustainability Day, Netherlands Maritime Technology (NMT) has presented 178 sustainable maritime solutions.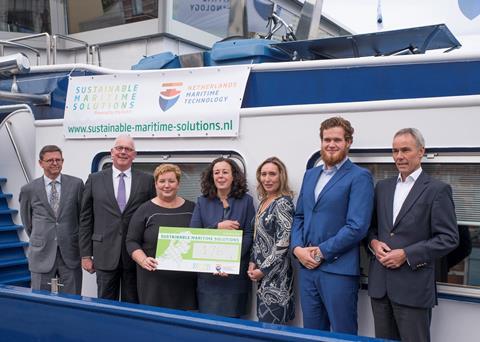 The solutions were presented to Salima Belhaj, member of the Dutch Parliament party D66, and Brigit Gijsbers, director of maritime affairs at the Dutch Ministry of Infrastructure and the Environment, on board of the MS Borelli – a barge that has been converted with electric propulsion.
Ms Belhaj explained: "D66 stands for rewarding these initiators. Therefore, providing funding is included in our election manifesto of 2017. Moreover, I am proud that the shipyards, suppliers and the rest of the Dutch maritime sector worked out this initiative together."
The number of solutions, which are powered by the Dutch and collected by NMT, aim to prove that the Dutch maritime technology sector can complete against various social challenges.
Meteorologist Margot Ribberink from the Meteo Group, a member of the association NMT, showed the consequences of climate change, such as the rise of sea level and hurricanes.
Water transport is known to be much less polluting than transport by road and by air, but it can and should be even cleaner.
Both Ms Belhaj and Mr Gijsbers acknowledged out the importance of these solutions and their appreciation for all the positive developments within the Dutch maritime sector.
Mr Gijsbers concluded: "The accumulated number of solutions demonstrates the innovative strength of the Dutch maritime sector. There are several emission reduction commitments made at global and European level." "Nevertheless, it requires more standards and this is what we are working on. I am pleased to see that the Dutch industry offers real solutions.
By Alice Mason