While news comes of the installation of the first turbine tower at the German Nordergrunde wind farm, London, UK-based John Laing has acquired a 30% stake in the wind farm. The Nordergrunde project is John Laing''s second German wind investment and its first investment in offshore wind.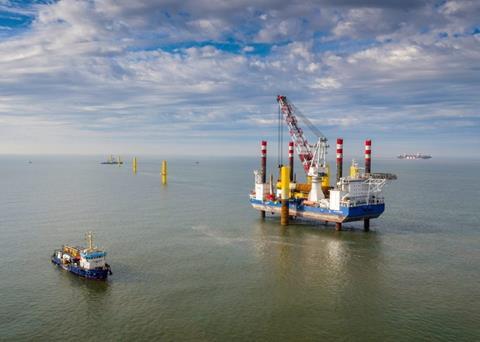 Ross McArthur, Managing Director of Renewable Energy for John Laing, said: "The Nordergrunde offshore wind project in Germany is an important step for John Laing into a new market where we see a significant opportunity, and in a country we want to continue to invest into."
The project achieved financial close in June 2015, with senior debt being provided by the European Investment Bank (EIB), KFW IPEX Bank and other commercial lenders. In addition to John Laing, other shareholders in Nordergrunde are WPG AG with 30% and Gothaer Leben Renewables GmbH with 40%.
All of the foundations for the turbines have been installed in the relatively shallow waters of the wind farm which is located close to the German coastline north of the borderline between Germany and Holland. The jack-up vessel MPI Enterprise was used to install the foundation units and has now moved on to the erection of the turbine towers.
The MPI Enterprise is a 120 metre long jack-up vessel capable of operating in water depths up to 45 metres. She is fitted with a 1000 tonne capacity crane and this crane can be extended with the addition of an extra boom which reduces the lift to 800 tonnes but is suitable for turbine tower installation work.
The Nordergrunde wind farm forms part of a cluster of wind farms located on the shoals that surround the main shipping channels into the River Ems. It will feature 18 Senvion 6.2 M126 turbines to produce a total of 110.7 Mega watts of power.
Nordergrunde is the first German offshore wind project for which all the major works are being provided exclusively by manufacturers based in Germany with production centred in the north-west region of the country. Along with Senvion, the turbines supplier, the companies hired for the project are Ambau for foundations, BVT for the transformer substation, NSW for internal cabling and Bilfinger for the installation.
The Nordergrunde wind farm is being built in shallow waters with a depth of up to 10m within the 12-mile sea zone of the German North Sea. It is located 15 kilometres north-east of the island of Wangerooge. The grid connection is in place, onshore cable and substation works have been completed and offshore cabling works have already begun. The construction is expected to be completed in the second quarter of 2017.
By Dag Pike