The WaveCraft Offshore Service Vessel, manufactured by Umoe Mandal in Norway, is part of the next generation of offshore wind farm service vessels, and according to UK-based vessel operator Tidal Transit, it is considered an industry 'game-changer'' by those who have been exposed to this surface effect vessel.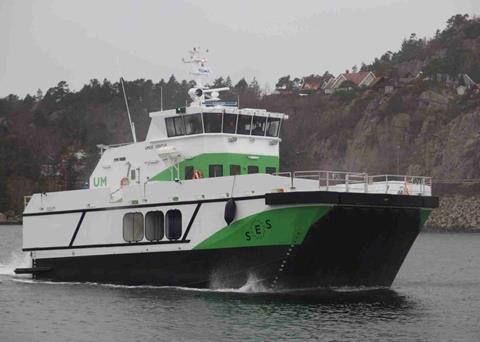 Earlier this year Umoe Mandal chartered the first commercial WaveCraft to Dong Energy for use at its Borkum Riffgrund Wind Farm off the coast of Germany, but the second commercial vessel, the Umoe Firmus is coming to the UK.
Since 2011,Tidal Transit Limited has been chartering its purpose-designed catamaran Personnel Transfer Vessels [PTVs] to the UK's offshore wind farm developers and operators, and now this young innovative company has entered into a Ship Management contract with Umoe Unda to be the UK operator of the Umoe Firmus.
The WaveCraft is a Surface Effect Ship [SES] which uses an air cushion between its catamaran hulls to lift 80% of the vessel out of the water. The shallow draught that this creates provides the vessel with easy access to ports, and enables it to travel at high speeds (40 knots is claimed) while maintaining a low fuel consumption resulting in a range of more than 700 nautical miles.
According to Tidal Transit, managing the pressure of the air cushion according to wave height allows for smoother voyages and provides a greatly increased opportunity for access to turbines -up to wave heights of 2.5 metres, or even higher in a swell.
Tidal Transit Commercial Director Leo Hambro said: "A number of UK offshore wind farm developers and operators have already expressed interest in the WaveCraft. Now that we know that Umoe Firmus will arrive in the UK by mid-February 2016, I anticipate that we will shortly be able to finalise the first UK charter contract."
By Jake Frith