The world-first inflatable and electrically powered evacuation solution has now obtained flag state approval to be installed on passenger ships.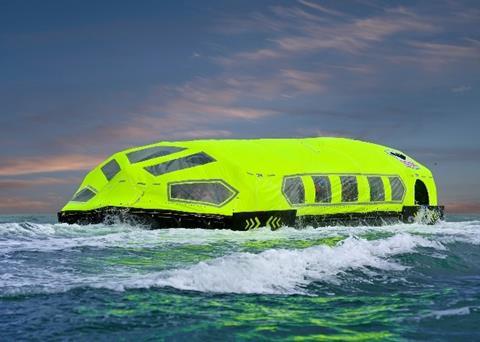 Viking Life-Saving Equipment A/S, has announced the first flag state approval of its entire Viking LifeCraft™ system, meaning the world-first inflatable and electrically powered evacuation solution is now cleared for installation on ships around the world.
The stamp of approval was issued by the Danish Maritime Authority (DMA) on August 23, 2019. This follows earlier approval of key components of the system, such as the Survival Craft™, as part of the innovative system's development journey. Full commercial availability of the triple award-winning Viking LifeCraft™ is set to follow within a few months of the breakthrough approval.
The Viking solution has been approved as a novel life-saving appliance system – a well understood and accepted category in the maritime industry. The novel life-saving appliance designation reflects the dual nature of the Viking LifeCraft™ system, which breaks the mold by making it possible to replace current lifeboat and liferaft evacuation options with a superior, hybrid solution.
"The LifeCraft™ system goes far beyond the capabilities of existing evacuation solutions and I am very proud of my team and our achievements," says Viking CEO, Henrik Uhd Christensen.
While the Viking LifeCraft™ system is a completely new and innovative product, it is based on well-proven technologies and extensive series of tests. And, while most maritime safety products and systems that achieved novel life-saving appliance approvals to date have been adaptations or variations of conventional life-saving appliances, this is the first time a complete – and completely innovative – evacuation solution has fallen under this category.
The LifeCraft™ system has a capacity to save 812 people and consists of two main elements: Inflatable Viking LifeCraft™ survival crafts, and a fully self-contained stowage and launching appliance that can either be placed on deck or built into the ship's side.
Every system is equipped with four survival crafts holding 203 persons each. With four independent electric engines at its corners, each survival craft is highly manoeuvrable and its ability to quickly turn 360 degrees is claimed to be unmatched by conventional motor-propelled survival crafts.
By Jake Frith