A record attendance of over 5,000 visitors from more than 60 countries is expected at this year's biennial Ocean Business event at the National Oceanography Centre (NOC) in Southampton from 4-6 April, say organisers Diversified Communications UK.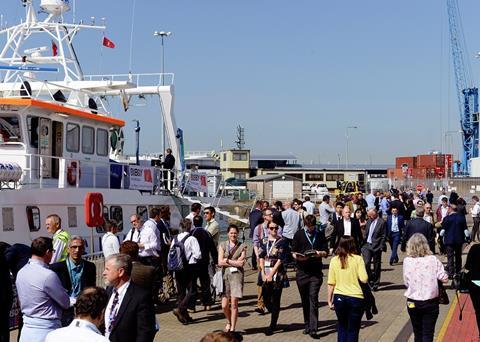 Featuring exhibits by 340 companies, the three-day event also incorporates 180 hours of training seminars and on-water and dockside demonstration sessions; technical highlights include latest advances in underwater mapping and imaging technologies as well as new AUV developments.
A number of exhibitors are also planning to have their own vessels moored on temporary NOC pontoons. They include C-Worker 5, an autonomous craft designed by ASV Global which has already attracted strong worldwide interest. Others are DWTEK's MSV Explorer operated by Red Ensign Workboat Services, R2Sonic's recently upgraded Rival, and Sonardyne International's Echo Explorer capable of conducting day and night operations over distances up to 60nm.
Additional dockside berthings include Teledyne Reson's MV Bryn survey vessel owned by Fugro Academy in Plymouth, Briggs Marine's Solent Guardian, Ports of Jersey's multi-role Rival and Norbit's all-purpose coastal Wet Wheels equipped with an integrated hardware platform comprising bathymetric sensors and a forward-looking sonar.
Daily interactive Ocean Careers sessions are among a number of fringe activities while the NOC as one of the world's leading oceanographic organisations will be hosting its own series of seminars and workshops covering its present range of large-scale oceanography and ocean measurement technology capabilities. In addition to providing advice on such issues as the decommissioning of the 475 oil and gas installations in UK waters, it will also host free tours of key testing facilities available for commercial hire.
Further details on the free-to-attend April event are at www.oceanbusiness.com.
By David Goodfellow