The Dutch inventor behind the Ocean Cleanup system has come up with a way to stop plastic pollution at the source with a floating device to autonomously scoop it out of rivers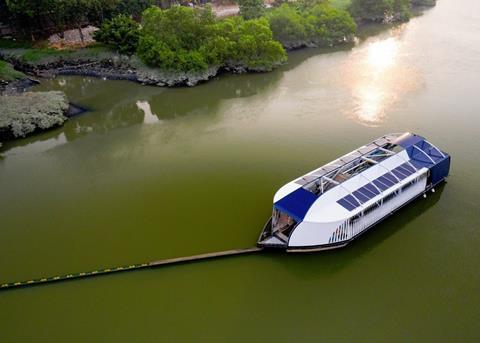 This Interceptor system uses floating barriers that catch waste floating down a river and guides it towards an opening on the Interceptor and onto a conveyor belt. Here the debris is separated from the water, with the conveyor delivering it into dumpsters on a barge from where it can be taken ashore. According to Ocean Cleanup these Interceptors can extract 50,000kgs of trash from a river each day. The Interceptor is based on a catamaran hull with the barge carrying the dumpsters floating between the hulls.
The Interceptor is fully solar-powered from panels on its roof and uses onboard lithium-ion batteries that enable it to operate day and night without any noise or exhaust fumes. Its floating barriers cover only half of the river so it will not interfere with other vessels or impede the movement of wildlife.
The recovered debris is automatically distributed across the six dumpsters with sensor data ensuring that the containers are filled equally until they reach full capacity. An onboard computer system then alerts local operators to bring a boat and to tow the barge of plastic waste away for recycling.
The solar panels on the Interceptor can produce 5.6kW which is then stored in lithium ion batteries with a 20kW capacity. The conveyor belt can extract 24kgs per second and it is reckoned that it will take one hour to fill one barge load of dumpsters to produce a total daily recovery rate of 50,000kgs but of course the recovery rate will depend on the density of the debris floating down the river. It is reckoned that one Interceptor costs €700,000 but as production of these units increases this cost will come down.
Ocean Cleanup has already installed two Interceptor systems in Malaysia, and Indonesia and a third Interceptor will soon be deployed in the Mekong Delta in Vietnam. Further Interceptors are planned for installation in the Dominican Republic and in Thailand.
By Dag Pike