Ocean Energy Europe 2015 will take place in Dublin, Ireland on 20 - 21 October. Each year, Ocean Energy Europe produces its annual conference in strategically important Member States and it describes itself as the key political event on the ocean energy (principally wave and tidal power) calendar.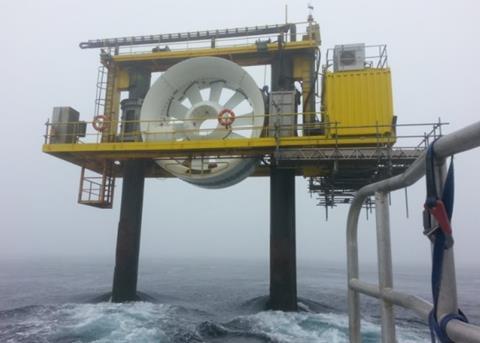 The 2014 event took place in Paris and was attended by 1 Commissioner, 6 EU Energy Ministers, 12 EU Commission officers and 18 Member State officers.
The sector's momentum towards commercialisation continues to build as it finds creative solutions to the financial and technological hurdles it faces. In the event's flagship session, the sector's largest project developers discuss what has worked, what hasn't, and their take on the best way forward.
On the second day delegates will discuss the development of a robust development strategy for wave energy. After a difficult end to last year, 2015 has seen the wave energy industry rethink, regroup and advance strongly. This session assesses the wave industries progress, the political initiatives which are driving it, and looks forward to the major projects which lie on the horizon from some of its biggest players.
The securing of finance will be a regular theme returned to in several of the sessions. In the short term, the ocean energy sector must continue to find creative solutions to apportioning risk in the fairest way. Despite the considerable revenue based support on offer, upfront finance is proving to be the major hurdle. Further flexibility is needed in support design to ensure it is fit for purpose. The burden of risk needs to be apportioned in a fair and sustainable way amongst stakeholders. In the Finance session, the industry's thought leaders will discuss these burning issues, and more.
Support at EU and national level will be central to getting ocean energy over the line and into the marketplace. In the Public Funding session, a panel of public finance experts will discuss some of the funds on offer, the strategies behind their conception and how closely they have succeeded in aligning with the needs of the industry.
The final session of the conference is aimed at the smaller developers. While a good deal of attention is often placed on ~1MW devices in both wave and tidal energy, the case for starting small and achieving high production volumes earlier in the development cycle is growing more and more robust. However, this route to market comes with its own challenges, with differentiated optimal solutions.
The event organiser, Ocean Energy Europe, describes itself as the largest network of ocean energy professionals in the world. 105 organisations, including Europe's leading utilities, industrialists and research institutes, trust Ocean Energy Europe with the promotion of ocean energy; acting as the main link between Europe's ocean energy industry and the EU institutions (European Commission, European Parliament, EIB etc) and EU Member States. Find out more at www.oceanenergy-europe.eu .
By Jake Frith