A ceremony to christen a new catamaran, Oceanograf, was held on 24 June at Nauta Yard in Gdynia, Poland.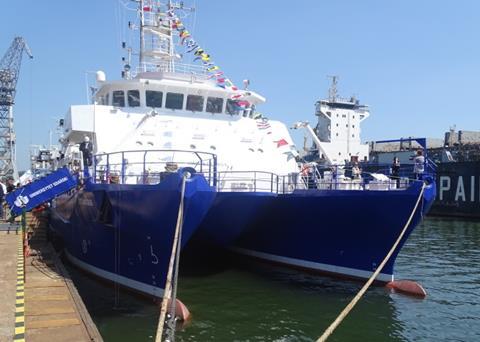 The vessel is 49.5m long and 14m wide, it can reach speed of 12 knots and was ordered by the Institute of Oceanography at the University of Gdańsk.
Built under the supervision of the Polish Register of Shipping, Oceanograf is a specialist research vessel intended for interdisciplinary research of the Baltic environment and nature.
Its double-hulled construction aims to minimise the angle of tilt, this is said to be especially important during research at the sea because every unintended movement of the vessel can interfere with measurements.
The Nauta Yard is currently also building another research vessel ordered by the University of Gothenburg. This vessel will be used for interdisciplinary research on climate change, water levels and the system of currents.
By Alice Mason