The deployment of the Oceantec wave energy converter, which has been designed by Oceantec Energy Marinas, as part of the EU-funded OPERA project is planned for September. It will be installed at a prepared site located some 2 miles offshore from Northern Spain in the Bay of Biscay.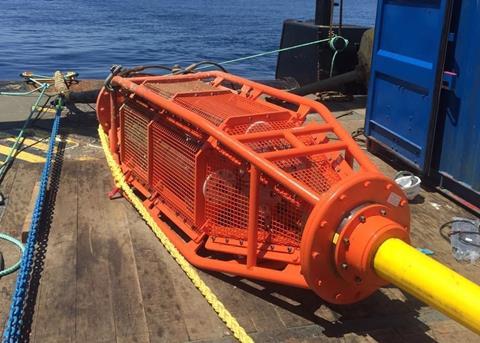 This is the location of the Biscay Marine Energy Platform (BIMAP) which offers a shared mooring, conventional tether and umbilical cable that have already been installed in 85 metres of water.
Preparatory activities aimed at de-risking the four OPERA project innovations at the site are well advanced with Global Maritime Consultancy and Engineering providing mooring and risk management support. Global Maritime is part of a 12 member consortium led by Tecnalia for the 3 ½ year programme of testing and de-risking the new technology.
The Oceantec point absorber oscillating water column floating device is a 42 metre long spar type wave energy converter (WEC). Inside the WEC there is an oscillating water column that forces air through a turbine that in turn generates electricity. The converter is a Wells turbine and it is planned that the generator will be connected to the grid in the autumn according to Tecnalia.
The Wells turbine is a novel type of turbine that will rotate in the same direction even with an oscillating air flow that is constantly changing direction. This helps to generate a constant output from the generator despite the oscillating air flow produced by wave motion.
Project OPERA (Open Sea Wave Operating Experience to Reduce Energy Cost) is coordinated by Tecnalia and Ente Vasco de la Energy (EVE), and involves the consortium of 12 members. The aim is to halve the cost of wave energy compared with alternative systems and to test the long term reliability of the energy production. This first deployment is nationally-funded and facilitates the provision of baseline experimental data to be used in OPERA.
Process instrumentation has already been selected and its deployment is also planned in September in order to monitor additional environmental and mooring data, Tecnalia said.
Bimep is research infrastructure dedicated for demonstrating the technical and economic viability of marine energy converters prior to their large-scale commercialisation, located 1.7 km off Armintza, Spain, with a generating capacity of 20MW. The shared mooring system is designed to reduce the overall amount of mooring lines and anchors to reduce costs. One of the roles of Global Maritime is to ensure that the mooring system is robust and to deliver telemetry and tension data plus carrying out operational simulations if required.
As the project moves into Phase 2 next year there will be further innovative mooring systems including elastomeric mooring tethers and experimental hull connections designed to reduce peak loads.
By Dag Pike