A new facility that can be used for testing components that are destined for use in offshore locations and facilities has been launched in Spain.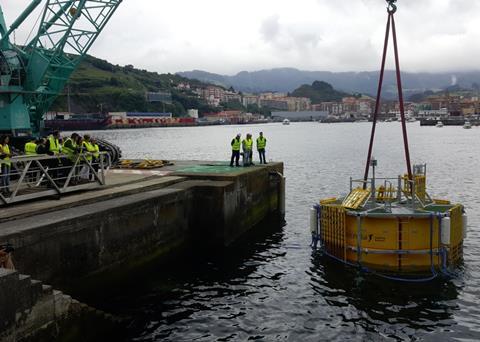 Called Harsh Lab, this new buoy shaped floating laboratory has been developed by the Spanish technological company Tecnalia and Harsh Lab is specifically aimed at the offshore renewable energy sector.
The launch of Harsh Lab took place at Bermeo Port on the north coast of Spain in July and it will be installed offshore at the dedicated offshore energy site located in the Bay of Biscay. The construction and installation of Harsh Lab has been supported by the Basque Government, and the lab will be situated and started up at BiMEP (Biscay Marine Energy Platform), the open-sea marine energy research platform located in Armintza and developed by the Basque Energy Agency (EVE).
Harsh Lab enables testing of new materials and solutions against corrosion, ageing and fouling in the marine environment, in real conditions that are monitored on site. The unit offers offshore testing in three environments, open air testing in a sea environment, splash zone testing where the equipment being testing is in the zone between air and water and finally testing underwater. These varying levels of testing allow a wide variety of equipment to be subjected to the sort of conditions that will be encountered offshore.
Companies will be able to use the facilities to assess, amongst other things, fixing solutions for the wind energy and oil & gas sectors; systems for monitoring and controlling underwater handlers; underwater electrical connectors; hydraulic systems; oil-hydraulic systems and components, metal tubes for piles; protective covering and solutions; and multi-material joints or mooring systems. The lab will offer accurate monitoring information to enable companies to predict the performance of materials, components and equipment in the hostile offshore environment, in order to develop offshore energy systems with a high survival rate.
A larger version of Harsh Lab, to be called Harsh Lab 2 is already under development which will provide facilities for testing larger sized components. This will considerably expand the capabilities of the project and for many manufacturers and developers these testing facilities will provide a vital way to evaluate new equipment without incurring the high costs of dedicated installations.
By Dag Pike