A new offshore jack-up installation vessel (JUV) designed to support the renewable energy industry in building future offshore wind farms will feature a powerful propulsion solution.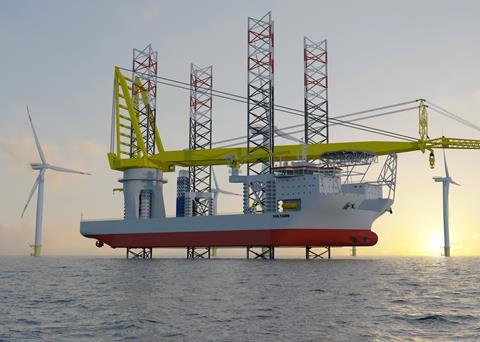 Jan De Nul Group's Voltaire, built at COSCO Shipyard in Qidong, China, will incorporate four rudderpropellers and two transverse thrusters from Schottel. The thruster setup is designed to ensure optimal propulsion efficiency.
Philippe Hutse, offshore director at Jan De Nul Group, said: "Upon delivery of the JUV in 2022, we will be capable of efficiently installing the next generation of offshore wind turbine generators and foundations. As we move toward this, Schottel's crucial expertise is of great advantage."
The propulsion system of the JUV is powered by electric motors driving the Schottel azimuth thrusters. Four Schottel Rudderpropellers type SRP 610 FP with an input power of 3,000kW each and a propeller diameter of 3.30m are installed at the stern.
When combined with the forward thruster setup, which includes two Schottel Transverse Thrusters type STT 7 FP (2,600 kW each and a propeller diameter of 2.80 m), the result is optimal manoeuvrability and full dynamic positioning to DP 2 standards. The Voltaire will also be able to achieve a maximum speed of 11.5 knots.
The 169.3m long and 60m wide Voltaire has a payload of approximately 14,000t and a crane capacity of over 3,000t. It is set to be delivered in 2022.
By Rebecca Jeffrey