Manor Renewable Energy Ltd took delivery of the Manor Endurance offshore support vessel in September and since then its six Class 90 pantograph wiper units (three front and three rear) have been put to the test at Scottish Power's East Anglia ONE offshore windfarm.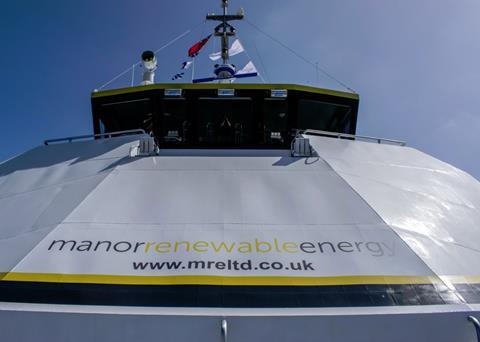 "Our unique selling point as a CTV operator is that we provide accommodation for the crew 24/7 on the windfarm without the need for a mothership," said Michael James, Marine Superintendent at Manor Renewable Energy Ltd.
"So every part of the vessel, including the equipment, has to stand up to being based offshore. We have had no problems with the DuroWiper pantographs. They were the right product for us, we could mount them externally, there is a washer system integrated into the arm and they are easy to install. They ticked all the right boxes."
Mr James explained that they had learnt lessons from the build of Manor Endurance's sister vessel, Manor Venture, back in 2017.
"The Manor Venture has internally fitted wiper systems which meant that we had to fabricate hosing inside the vessel to contain the systems which involved a lot of time and effort. The wiper systems had no integral wash system and we have had to replace the wiper panels more than once since installation," he said. "DuroWiper pantographs on the new vessel have solved these issues."
With the East Anglia ONE contract now coming to an end, Manor Endurance will head off to work at another windfarm project in early 2021.
Visit Durowipers at Seawork 2021 on stand PY53