Siemens' new wind power factory at ABP's Port of Hull has manufactured its first turbine blade.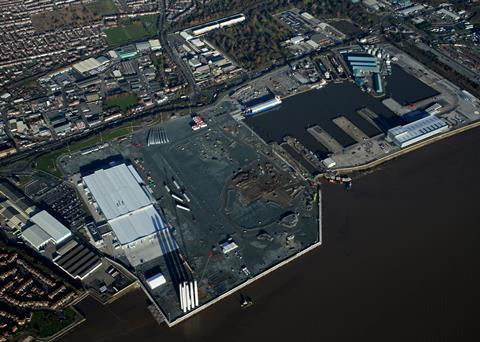 This marks the start of production of hundreds of blades which will be produced for the offshore wind industry every day.
Simon Bird of ABP, said: "The first turbine blade which we have seen manufactured at Siemens' factory at Alexandra Dock is the symbol of two years of hard work and investment by Siemens, ABP and Hull City Council."
"In 2014, Alexandra Dock was simply a site with the potential to be a home to a world-class facility for wind power manufacturing. Fast forward to today and with ABP's £150m investment in this joint venture, the Siemens site is a thriving hub providing employment and economic benefits to Hull and the entire Humber region."
The first turbine blade has been unveiled at an event held at the wind power factory at Alexandra Dock. The facility will manufacture turbine blades for Siemens' 7MW and next-generation 8MW turbines which will be among the first supplied to DONG Energy for the Race Bank windfarm.
The Alexandra Dock site is still being developed, with construction of a new harbour for pre-assembly and load out of wind turbine components continuing into 2017.
RenewableUK has hailed the new plant as a major stride forward for Britain's rapidly-expanding offshore wind sector.

The £310 million redevelopment of Alexandra Dock by Siemens and Associated British Ports will create 1,000 jobs, 700 of which have already been filled by local people. The site, which is the size of 78 football pitches, includes a factory which will manufacture blades 75 metres long and a dockside plant assembling turbine towers 82 metres tall.

RenewableUK's Chief Executive, Hugh McNeal, said: "Siemens is one of many trailblazers investing in this sector right across the UK. Offshore wind developers are committed to maximising the amount of locally-made kit in their projects, to ensure that we all reap the economic benefits of renewable energy – including opportunities to export, capitalising on Britain's global lead in offshore wind."

"The offshore wind industry is bringing well over £20 billion in investment to the UK over the course of this decade, creating thousands of new jobs, from apprentices taking their first steps into high-tech, to experienced workers making the transition from the oil and gas sector into renewables."
By Anne-Marie Causer