Traditional ship repair and renovation skills have been in demand at German yards involved in the restoration of three oldtimers, writes Tom Todd.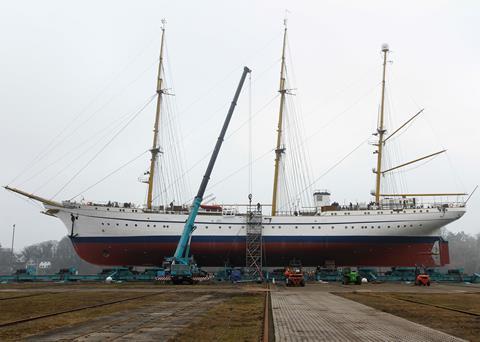 Top of the list is the restoration of the 89m x12m, three-masted Navy training ship Gorch Fock II. Some 150 specialists worked on the 61 year old steel-hulled barque, which was refloated at Lürssen's Berne yard using a 4,800 ton capacity synchro-lift.
The ship was then towed to Luerssen's refit and repair yard in nearby Lemwerder for final outfitting. A German Navy spokesman told MJ handover and return to cadet training was expected on May 31st.
Since 2015 Gorch Fock has been at several German yards for renovation originally expected to cost some €10 million. But in 2017 the almost complete replacement of hull plating as well as deck renewal and refurbishment of the ship's 6-cylinder Deutz auxiliary was ordered at a controversial price of some €135 million.
Now also restored and berthed in Hamburg is a second historic German ship, the legendary four-masted Flying P cargo sailing ship Peking.
Refit and repair yard Peters Werft said the project was "technically challenging" and coverd steel hull and rigging reconstruction and many other projects.The three-year restoration cost €38 million - all funded by Berlin - and Peking will eventually be part of a new German Port Museum in Hamburg.
Built in 1911, the rusting hulk of the 115.5 x 14.3m Peking was carried home from New York in 2017 on a project load carrier. It is the second Flying-P sailing ship to find a permanent berth in Germany: sister Passat is moored in Luebeck as a museum ship.
Finally a ship described as the world's oldest operational museum cargo vessel was leaving German Dry Docks in Bremerhaven in April after extensive overhaul and five year class renewal reportedly costing €1.4 million.
MJ understands that the work on the 159.4m x 21.3m, combined cargo and passenger ship Cap San Diego included steel renewal, hull and tank corrosion protection and the renewal of some operating and electrical systems. The 10,000 dwt ship's original two-stroke, 9-cylinder MAN Diesel was described as "impressive and in a very good condition".
The nearly 60 year old veteran, which once sailed for Hamburg Süd, still carries out museum sailing trips.