Book now for SMI Webinar 4 - Underwater Radiated Noise: An unheard emission
Join SMI in partnership with Seawork for the final session in the 'Journey to Net Zero' series.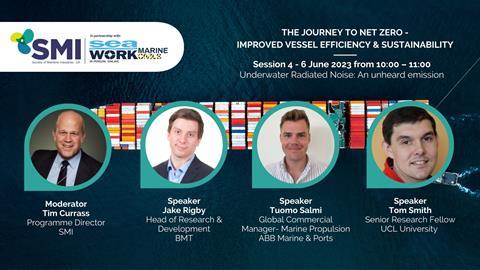 Taking place on 6 June from 10:00 – 11:00 Webinar 4 will focus on 'Underwater Radiated Noise: An unheard emission'
The term "Clean Maritime" addresses all pollution sources into the ocean, one lesser known but incredibly influential source is noise pollution, or Underwater Radiated Noise (URN).
Whether it is engine noise from ships or pile driving for new offshore infrastructure URN can have a huge impact on marine life and cause permanent damage or initiate habitat loss. Some localised regulations are already in place such as in Vancouver in Canada, but it is now being discussed on a global stage at the IMO with guidance documents having been updated earlier this year.
This session will discuss the engineering solutions to the challenge including, how we can take best practice from other sectors, cutting edge academic research generating novel approaches, how we can capture more data on commercial vessel noise, and how to design better components including understanding how electrical noise can create URN.
Joining Tim Currass, Programme Director at SMI are the following panel of expert speakers:
Jake Rigby, Head of Research & Development,BMT
Tuomo Salmi, Global Commercial Manager- Marine Propulsion, ABB Marine & Ports
Tom Smith, Senior Research Fellow, UCL University
Book your place today for this free to attend session.
Registration link - The Journey to Net Zero - Improved Vessel Efficiency & Sustainability – Webinar 4: Underwater Radiated Noise: An unheard emission (seawork.com)