Three more 36-passenger offshore CTVs will join Germany's Opielok Offshore Carriers (OOC) in 2017 and 2018 as a result of the "outstanding" performance so far of the first boat in a new high-capability series.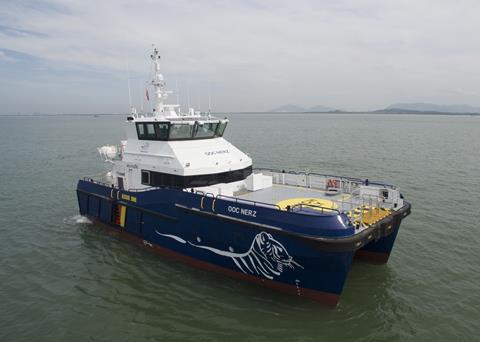 In comments to Maritime Journal, Mario Stemmler at the specialist Hamburg shipowner reported "outstanding" performance with OOC Nerz since it went into service. "Because of the very good experience already gained with this type of ship we are going ahead with further newbuildings", he said, adding "We are convinced that the type will establish itself as a new standard on the market".
The 26.2m x 8.9m wide OOC Nerz, built by Strategic Marine in Vietnam, draws 1.75m and is propelled by four fuel-efficient Volvo Penta IPS 900 thrusters and four Volvo D13-700 high-speed diesels coupled to joystick controls and a dynamic positioning system. Top speed is put at 27 knots and service speed at 25 knots and the newbuilding boasts DP, an active fender system, a crane of up to 6t SWL and deck power sockets fore and aft.
It is the first of four BMT-designed CTVs for up to 36 passengers and four crew and OOC described it as a "cutting edge" vessel with, among other things, variable seating arrangements, a full galley, lounge, air-conditioning and "eminently low noise and vibration levels". It can also load 10/20 ft containers and is designed to carry dangerous goods and conduct fuel transfers and ROV dives.
Mario Stemmler said the BMT design and IPS propulsion meant not only excellent speed and manoeuverability but also fuel savings compared to other boats while DP meant precise berthing and saved time in port and at turbines.
The ability to transport up to 36 passengers was "absolutely unbeatable" and considerably reduced crew exchange transport costs per passenger, he said, while the active fender system meant ships could dock softly at older, smaller boat landings.
The second ship in the new series, OOC Ozelot, would be delivered in April/May next year, Stemmler told Maritime Journal. The final two CTVs, for which names had not yet been fixed, would be delivered in 2018, he added. "In all probability we will also have these boats built at Strategic Marine, in Vietnam or in Singapore", he said.
Stemmler said OOC was also planning to modify one of its 72m OSVs for wind farm needs as a Walk-2-Work accommodation, guard and co-ordination vessels capable of cargo and supply work.
To be called OOC Cheetah it will receive a motion compensating gangway system, extended accommodation for up to 40 passengers, and an additional daughter boat for transfers in up to moderate weather conditions. Stemmler revealed that OOC would consider ordering a "purpose-built newbuilding" instead against a long-term charter booking.
By Tom Todd