Residents in the northern Highlands have had the rare opportunity to inspect the Maritime and Coastguard Agency (MCA) chartered Emergency Towing Vessel (ETV) 'Ievoli Black'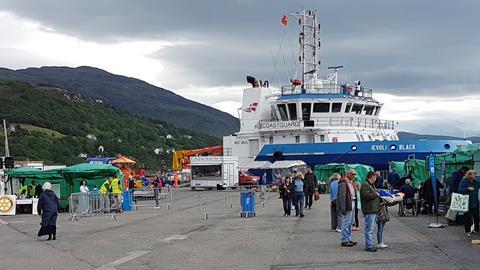 The visit to Ullapool coincided with a local Rotary Club and RNLI open day which attracted hundreds of people and was the first of four similar visits for Ievoli Black which sees the tug visiting: Ullapool; Stornoway; Kirkwall, Orkney and Kyle of Lochalsh.
Russel Freeman from the MCA said: "The size of the vessel meant people really couldn't miss it and it was really popular, with several hundred people coming onboard to have a look. The vessel performs a vital role in protecting the Scottish coastline and it's right that people should be given the opportunity to visit the ship and meet the crew. They were given guided tours and were genuinely interested in all they saw."
Provision of UK government-funded ETVs started in 1994 with the 110tbp AHTS Brodospas Moon chartered for a single winter season to cover the Dover Strait and was a direct response to Lord Donaldson's report Safer Ships, Cleaner Seas published in the same year following the loss of the loaded tanker Braer off the coast of Shetland, Scotland.
The service gradually became a year-round operation with various vessels and operators maintaining cover over an expanding area and in 2001 Klyne Tugs of Lowestoft signed an eight-year contract to provide four powerful tugs at Dover, Falmouth covering the Southwest Approaches and further north at Stornoway in the Outer Hebrides and Lerwick in the Northern Isles, the tug at Dover was jointly-funded by the French government. Among the fleet were two UT719 anchor-handlers Union Sovereign and Union Princess, designed particularly for the role of ETV and ordered with the MCA contract in mind. Klyne also had another tug available for relief duties.
Following a government spending review in 2010 funding was withdrawn for the ETVs effective September 2011. There was strong opposition however both regionally and nationally in Scotland to the decision and the two ETVs in those waters received a reprieve from the axe. Currently the chartered Ievoli Black is the sole remaining UK ETV with something of a roaming brief covering the Minch and Orkney and Shetland depending on weather and traffic conditions.
By Peter Barker