Sanmar Shipyards has announced it is to discontinue its successful Sanmar, Dogançay and Ulupinar series of tugs.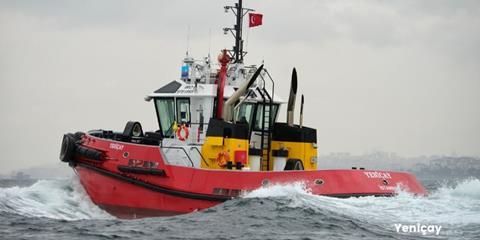 A month seldom passes without MJ reporting news about Sanmar's Robert Allan Ltd-designed tugs. Such vessels are developing rapidly, including bespoke variants based on standard models and with 15 designs in its catalogue the Sanmar, Doğançay and Ulupinar series, of which 31, 26 and 20 have been delivered respectively since 1995 are being discontinued.
Replacing them are what Sanmar call 'a new breed of tug … Designs that meet today's challenges of greater fuel efficiency, lower emissions and crew comfort without compromising on build quality and toughness.' The three new designs are 18m, 19m and 22m in length but an indication of how these so-called 'compact tugs' have evolved without compromising power is where they offer bollard pulls up to 60 tons.
Smallest is the 18.7m Yeniçay class ASD, based on RAL's RAscal 1800 design and suited for line-handling and smaller shiphandling tasks with scantlings in excess of minimum for any classification society.
Twin 970kW Caterpillar engines power Veth thrusters providing 30tbp. Towing is via a DMT winch forward and Data Hidrolik tow hook aft. Two double cabins are provided and twelve Yeniçay class have been delivered or are in production.
The Bozçay class is a conventional twin-screw design designated RApport 1900SX by RAL, vessel number six now under construction. Described by Sanmar as a 'tough and versatile workhorse' this 19m tug offers 30+tbp from an engine arrangement similar to the Yeniçay class with towing over the stern via a Data Hidrolik tow hook mounted on an aft tow bitt.
Finally, the Sirapinar class is aimed at harbour and coastal towing duties and intended for low manning while meeting under 24m rules. Designated RAmparts 2200 it is based on the Boğacay series but 2m shorter and 0.4m less in beam. While capable of bollard pulls up to 60 tons the majority delivered so far have been 50tbp, number 18 in the series is currently under construction.
Twin 1,500kW Caterpillar main engines drive Schottel Z-drives and deck equipment includes a double-drum, 125t brake load DMT winch forward and tow hook aft with accommodation is provided to north European standards for five persons in three cabins.
By Peter Barker