More than 7,500 maritime professionals are expected to attend Seawork International 2017 on its 20th anniversary to explore innovation in the commercial marine and workboat sector.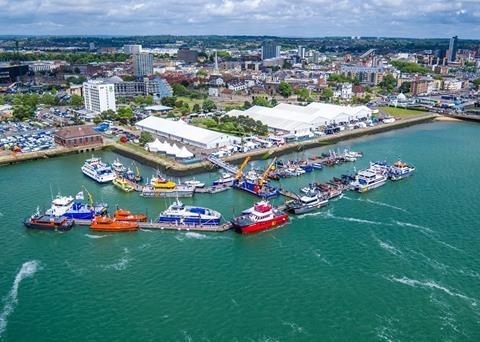 Beginning tomorrow (13 June), the three-day event at Mayflower Park in Southampton will include 70 vessels and exhibits for viewing, trials and demonstrations and around 10,000 products and services showcased by 630 exhibitors and brands.
The trade show will also encompass a sector-specific conference across all three days, alongside extensive networking opportunities.
This year, for the first time, Seawork will present its new European Commercial Marine Awards (ECMAs) alongside its Innovation Showcase winners on the first day of the event.
Netherlands-headquartered Ravestein BV will be exhibiting its 60m by 28m semi-submersive jack-up platform. The Skylift 3000 will be the largest in-water vessel ever exhibited at the event.
Fieke Engelbracht, sales manager at Ravestein BV, said: "We have been exhibitors at Seawork for 15 years, and over this time it has become the best exhibition for Ravestein, despite us also attending 10 exhibitions annually."
UK-based marine data monitoring specialist Reygar will also be unveiling its BareFleet monitoring solution.
Chris Huxley-Reynard, managing director of Reygar, commented: "We're excited to be exhibiting for the first time at Seawork International this year and look forward to meeting new people from across the marine industry."
The new Seawork app enables fast-tracked transit throughout the venue.
Visitor registration is free at seawork.com.