After four years of development and testing the Swedish company Cimco Marine is finally starting to send out production versions of their pioneering diesel outboard.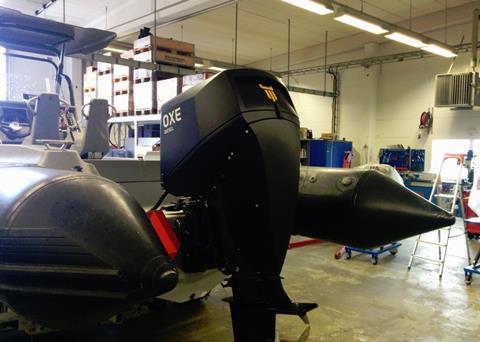 This first batch will be supplied to the Norwegian cruise ship company Hurtigruten to power rigid inflatable tenders carried on the ship but Cimco has many clients now lined up for the production units.
Up till now all of the diesel outboards that have been supplied by Cimco have been pre-production prototypes that have been supplied for testing and evaluation purposes. The 200hp units now rolling off the production line mark the first time that powerful production diesel outboards have been available on the market.
The prime markets for the OXE diesel outboard is for use on tenders and boats operated on naval, military, rescue and commercial applications where safety, durability, performance and ease of service are important. Military forces in many countries have now mandated that no petrol can be carried on board ships because of the fire risk and so the diesel outboard meets this requirement and also offers a fuel that is compatible with that of the mother ship in many cases.
One area where there has been a lot of interest is from the fish farming sector. Often working in remote areas these diesels outboard can be very attractive to operators in locations because the diesel fuel is much more readily available in these remote areas and easier to store.
"The engine's key benefits are that the fuel is less flammable, there are easily accessible service points and the engines are more fuel efficient." said Magnus Folin, the CEO of Cimco Marine. "With the switch to production units Cimco Marine now sets course towards full production speed. The work with implementing organisational changes and expanding its distribution network also continues."
Now that the production units of the 200hp diesel outboard are coming off the production line Cimco Marine is developing a more powerful version of this outboard. A target has been set the development of a 300hp diesel outboard which is likely to be available towards the end of 2017. Like the 200hp unit this will be based around an automotive diesel engine and it will use the same innovative belt drive transmission.
Cimco Marine was founded in 2012, and is the manufacturer behind a patented outboard transmission, enabling the use of high torque diesel engines on outboard systems and in sterndrive solutions. The diesel outboards can meet the stringent emission targets set by the EU and the EPA in the US.
By Dag Pike