Palfinger Marine has been selected to equip four new offshore wind service vessels with lifting solutions as well as lifesaving appliances.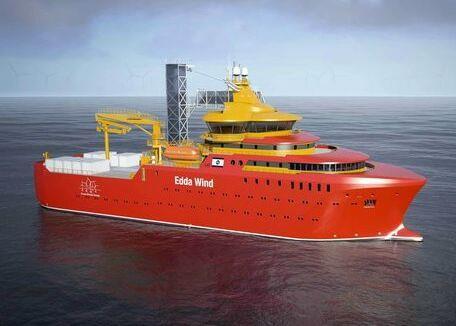 The Austrian crane and lifesaving equipment manufacturer will provide the equipment for Edda Wind, Østensjø Group's offshore wind segment. The deal includes ten foldable knuckle boom cranes, four lifeboats and eight davits.
Designed to be eco-friendly and efficient, the two commissioning service operation vessels (CSOV) are being constructed at Gondán Shipbuilders. Each of them will be fitted with one of Palfinger's PK15500M cranes and one PK33002M crane, the latest model of PALFINGER's foldable knuckle boom cranes.
Two slightly smaller service operation vessels (SOV), awarded to Balenciaga Shipyard, will be equipped with two PK15500M cranes and one PK33002M crane each.
Additional order
Shortly after signing the crane contract, Palfinger secured the deal to also deliver lifesaving appliances to all four new Edda Wind vessels. While each SOV will be fitted with two liferaft davits, each CSOV will be provided with two totally enclosed lifeboats with accompanying davits in addition to two liferaft davits.
Charter agreements
The delivery of all Palfinger equipment is scheduled for 2021 and 2022. Edda Wind has signed long time charter agreements for two of the four vessels. One agreement involves MHI Vestas, allowing one of the SOVs to operate for the next 15 years as of the second quarter of 2022. The second ship, a CSOV, has been chartered by Ocean Breeze Energy for a period of eleven years, starting with the first quarter of 2021.
By Rebecca Jeffrey