Norwegian builder Paragon, which is part of the Nimbus Group, introduced a version of their 31 Cabin last year which was aimed at the commercial sector.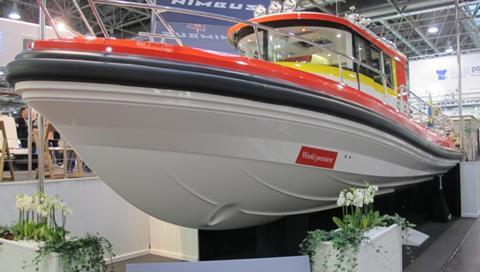 It featured upgraded scantlings for the composite hull combined with many additional features applicable to the commercial sector. Now Paragon has introduced a version of this 31 that has been tailored to meet the requirements of the search and rescue market.
This new SAR version follows Paragon's success with marketing SAR versions of its smaller 25. The 31 features the same advanced hull design with its multi-chine shape designed to offer a soft ride in rough seas. It is based on a hull with a 24.5° deadrise to further soften the ride and the hull is surrounded by a rugged foam filled fender to reduce alongside impacts.
The extended wheelhouse has sprung seating for a crew of four but can be modified to suit requirements. The electronic navigation and communications installation can be also specified to requirements, mainly from the Simrad range, and for cold area operations the curved upright windscreen can be electrically heated. Down below there is accommodation for two complete with galley and toilet.
The aft deck is flat, extending to the stern as a working deck with a swim platform and swim ladder aft providing a base for casualty recovery. A second set of engine and steering controls is located at the aft end of the wheelhouse moulding for use during this type of recovery operation.
The performance can be specified to requirements with a variety of Volvo Penta engine and drive options. These range from a single 370 hp D6 which gives a speed of 33 knots up to twin D4 engines of 300 hp each which will give a speed of 40 knots. These would normally operate through Volvo Penta stern drives which can be combined in a joystick control system. A Sleipner bow thruster is also used to increase manoeuvrability. The fuel capacity of 450 litres gives a range of up to 250 miles.
The overall length is10.59 metres and the beam is 3.36. The draft with the drive down is 1.18 metres and the displacement is 6187 kg in light condition.
The Paragon 31 Commercial can be outfitted for a variety of roles in addition to SAR duties such as for patrol and support work as well as police and customs duties.
By Dag Pike