Recycling Technologies (RT) has developed a process which can boost the recycling rate of plastic waste to produce a new fuel.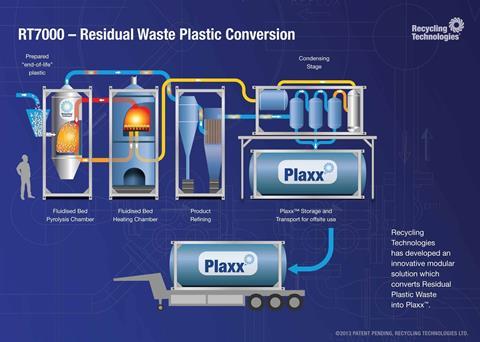 The fuel, Plaxx, meets MARPOL regulations for marine use and the company is now looking for partners to assist with the fuel being trialled in an operational environment.
Plaxx has been produced on a commercial scale in RT's large pilot plant and the first commercial machine is available for the first time in 2017.
"The hub of the process is the RT7000 machine which converts the plastic waste into a clean more sustainable ultra-low sulphur hydrocarbon substitute which can be used as an alternative for fossil-based Heavy Fuel Oil," said Adrian Haworth, RT's sales and marketing director.
He added: "There is very little sulphur in the plastic used to produce Plaxx and therefore it easily meets the requirements for the forthcoming legislation (IMO's global sulphur cap). In addition to the environmental benefits it also provides cost benefits to ship operators."
To assess and accredit the performance of Plaxx as a marine fuel RT commenced work in July 2016 with Ricardo Ltd, Lloyds Register, World Fuel Services and University of West of England.
A series of tests are taking place using Ricardo's Atlas II research engine to evaluate the performance of the fuel against diesel and HFO.
Following this, further tests on RT's own engine will be reviewed and assessed by Lloyds Register to ensure that Plaxx complies with the ISO 8217 Marine Fuel Specification.
By Alice Mason