A new strategic partnership is set to aid the digitalisation of marine engines.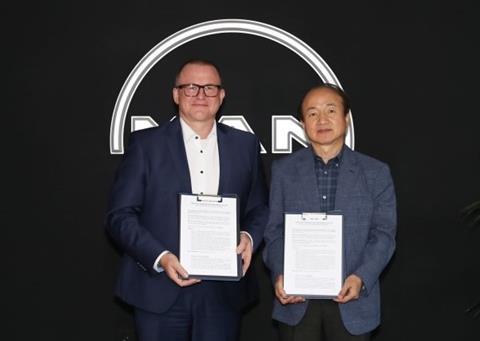 MAN Energy Solutions and Samsung Heavy Industries Co., Ltd. have signed a strategic cooperation agreement with the aim of defining a framework for a long-term strategic cooperation in order to develop technologies and systems for the digitisation of marine engines.
"Digital technologies and the business models based on these technologies will transform the maritime industry," said Brian Østergaard Sørensen, head of R&D 2-Stroke Business at MAN Energy Solutions.
The scope of the cooperation will be focusing on digitisation of marine engine solution data including auxiliary systems; data collection, diagnosis and visualization in relation to marine engine solution performance; design and technology development of an architecture system for marine engine digitisation solutions including auxiliary systems; integration between marine engine solutions – smartship platforms and engine diagnostic solutions; and testing and verification of research and development results.
Smartship solutions
Yong Lae Shim, vice president of SHI Ship and Offshore Research Institute, said: "We are committed to providing smartship solutions that are useful to our customers. This agreement with MAN allows us to expand the ecosystem of the SHI's smartship SVESSEL, to further provide practically useful services to ship owners."
Digital partnerships are part of MAN Energy Solutions' digital strategy. A key focus of the strategy is the MAN CEON platform that intelligently collects and evaluates operating and sensor data, and enables the real-time monitoring of marine or power-plant engines, turbines and compressors.
By Rebecca Jeffrey