A partnership to deliver high yield water turbines has been established by two Dutch companies; electrical system integrator, Bakker Sliedrecht, and water turbine manufacturer, Water2Energy.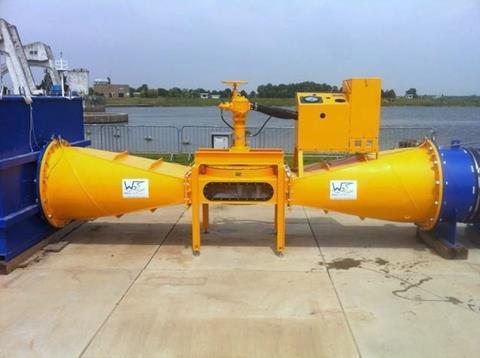 The vertical axis water turbine (VAWT) has been designed by Water2Energy to continuously adapt the position of its blades to receive the full force of streaming water.
Jeffrey Gadellaa, manager of innovation, marketing, and communication at Bakker Sliedrecht, said: "The high efficient water turbines offer governments and businesses worldwide the possibility to embrace this form of sustainable energy. This strategy is in line with our focus on electrical installations within the sustainable energy sector."
Bakker Sliedrecht and Water2Energy claim that VAWT is 30 to 50% more efficient than traditional water turbines.
The companies say the high yield of the VAWT is enhanced because Bakker Sliedrecht convert the mechanical energy into electrical energy using a special set-up with gearboxes and generators.
Bakker Sliedrecht also created a smart system that delivers the electrical power to the grid.
Reinier J. Rijke, general manager at Water2Energy, said: "Tidal energy is a type of sustainable energy that is very predictable, very reliable, and always available on set moments thanks to the fixed intervals of tides and currents. Now, with the partnership with Bakker Sliedrecht the conversion ratio between of mechanical energy to electrical energy has improved significantly. This makes tidal energy an even more attractive type of sustainable energy."
The open structure of the VAWT allow fish to swim through easily, say the companies. A test, performed in 2015 for Pro-Tide, showed that harm to fish swimming through the turbine was below 1%.
By Rebecca Jeffrey