The Taiwanese Coast Guard''s (TCG) new 600t patrol boat features a powerful propulsion arrangement.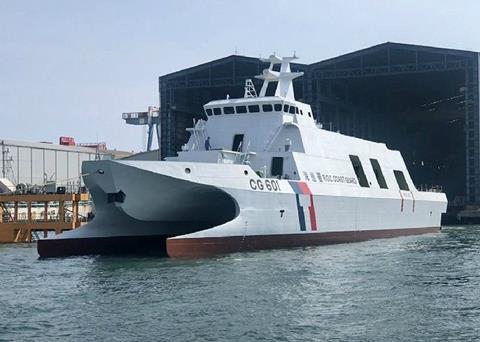 Built by Jong Shyn Shipbuilding Group, the twin-hulled catamaran is powered by four MTU engines with a combined total power of over 15,000kW, plus quad HT900s waterjets from HamiltonJet, operated using HamiltonJet's Modular Electronic Control System. The HT900s waterjets feature a mixed-flow pump that provides high efficiency at medium to high speeds and retains the high thrust at zero speed required for dynamic positioning in high sea states.
"This project is the result of a great team effort across the whole company, as there were significant challenges in winning the tender, designing the project-specific components, sourcing parts from all over the world and manufacturing the entire system to a very tight timescale. The result is a credit to everyone involved," said HamiltonJet CEO, Ben Reed.
The expected top speed of the Anping is 35 knots, compared to 30 knots for a current 600t craft.
Jong Shyn Shipbuilding Group expects the vessel to be completed in October 2020 ready for sea trials before being deployed for protection and fishing control rights in the southern waters.
The launch of the Anping marks the first of a potential new fleet of 12 TCG 600t patrol vessels.
By Rebecca Jeffrey