Scotland, UK''s Peterhead Port Authority has awarded the contract for the Peterhead Scheme 2 project to a joint venture partnership between contractors McLaughin & Harvey and Boskalis Westminster.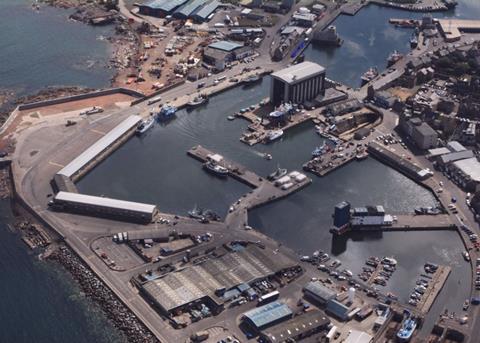 This project is a major investment costed at £49M and designed to ensure that Peterhead remains at the forefront of the fishing industry for the remainder of the 21st century. The proposals drawn up by Peterhead Port Authority will develop the facility into a fully integrated, state-of-the-art fishing hub by the end of 2017.
The developments include constructing a much larger fish market to cater for continued growth in this sector. The market will have a 50% greater floor space and provide enhanced opportunities for the display and management of fish, helping fishermen to continue to secure top industry prices. It is also planned to bring together the full range of services and facilities required by the fleet. This will include provision of stores, ice, boxes, water, fuel and all manner of repair services.
The development project entails the strengthening and deepening of the port, land reclamation with revetment, the widening of the harbour entrance, demolition works and improved services throughout. It is anticipated that the harbour will benefit from improved realignment to the existing quay walls and the increased draft which will facilitate larger vessels using the harbour. The inner harbours will be deepened to a depth of 6.5m which will allow fishing vessels unrestricted access and berthing in safe, weather-protected basins.
According to the contractors McLaughlin & Harvey the dredged material generated by the deepening of the harbour will be used to create a 30,556sq.ft reclaimed area that will be available for future developments. This will maximise the existing resources and achieve environmental benefits for the scheme.
John Wallace, Chief Executive of Peterhead Port Authority, said, "These strategic proposals for the introduction of state-of-the-art facilities will inject fresh life into the local fishing industry and help us further position the harbour as the premier fishing port in Europe. All aspects of the development will have a tremendous impact on the port, town and subsequently the local business community. The real jewel in the crown will be the provision of deep water, which will significantly benefit the white fish boats. We are confident that the fishing sector has a bright future with encouraging signs of improving stocks of most key species. This investment will ensure the port meets the current and future needs of the sector and should bring confidence to others about future opportunities in this industry".
Completion of this scheme will take about 18 months and it is part of a major expansion of Peterhead to meet the requirements of both the fishing and the offshore sectors.
By Dag Pike