The UK's Employee Ownership Association Award for Innovation celebrates the year's most compelling examples of innovation within UK employee owned organisations. UK civil engineering company Houlder's ingenious new tools for the offshore wind energy market have been highly commended by judges this year for delivering clear benefits both technically and commercially.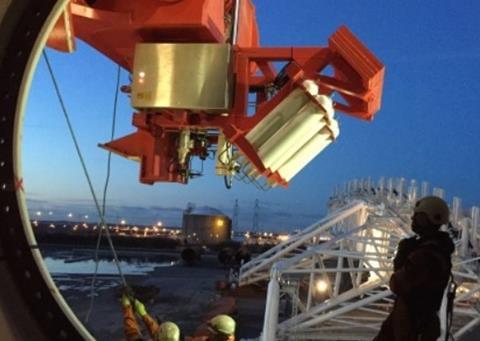 Houlder's entry focused on its Offshore Wind Pile Upending solution which has recently completed work constructing the Rampion Windfarm off the Sussex coast.
Gianpaolo Benedetti, Houlder Project Manager for Innovation & Product Development (and Employee Benefit Trust representative) said "We are primarily engineers and designers so, to an extent, innovation comes naturally. However, Houlder's employee ownership status is an extra incentive to keep an eye on the future. Developing new ideas benefits the whole organisation. We are delighted that this has been recognised by the employee ownership association judging panel."
Gianpaolo continued "Our pile upending tools are capable of lifting 855t, 5m diameter steel foundation piles. These are not small pieces of equipment and handling them offshore, let alone upending them from 0 to 90 degrees, is one of the riskiest operations during wind farm construction. Our tools needed to be incredibly robust, but also lightweight enough to ensure easy integration with existing craneage. Some very ingenious design work has gone into the steel structure and hydraulics. It also goes without saying the control system needed to be simple to use but also provide complete fail safety."
In another move relevant to the Employee Ownership Association Award for Innovation, Houlder is leasing the equipment in a new agreement which provides longer term returns and a more flexible, responsive service to our clients.
The employee ownership awards celebrate and recognise excellence in employee owned businesses across the UK. They provide a unique opportunity to recognise the achievements and success of individuals and teams as well as showcase and profile businesses across the sector and beyond.
Houlder was presented with the Employee Ownership Association Award for Innovation, alongside other categories, at a Gala Dinner on the 21st November 2016 at the Hilton Birmingham Metropole Hotel.
By Jake Frith