The Moroccan Royal Navy (MRN) has entrusted French boatbuilder Piriou with the vessel design and build of its new 72m hydro-oceanographic and multi-missions vessel.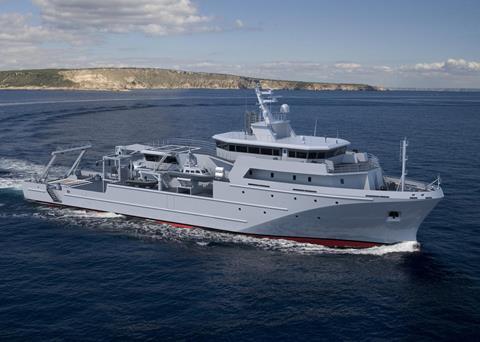 This is the third contract awarded to Piriou by the MRN after the contract for a 50m Landing Craft Tank (LCT) to be delivered next July and the contract for the overhaul of the OPV 64 Rais Bargach, which is presently under way in Concarneau.
The BHO2M is a last generation scientific vessel equipped with the systems matching the topographic studies answering the International Hydrographic Organization (IHO) standards. It was designed from the Multi-Missions vessel (B2M) under construction in Concarneau for the French Navy.
Vincent Faujour, general manager, Piriou, said: "We are very pleased and honoured to build this second vessel for the Moroccan Royal Navy. Thanks in particular to a close and crucial collaboration with the SHOM, we have designed a performing vessel with all the qualities required to become the new reference in terms of hydro-oceanographic vessel."
When completed, the BHO2M will undertake hydrographic and oceanographic missions, such as the completion of topographic studies, data acquisition and process, scientific sampling and the related analyses.
It will also be able to answer the operational requirements of all of the main authorities regarding patrol, humanitarian assistance, Special Forces or divers deployment, search and rescue and environment protection.
The vessel is due for delivery by mid-2018.
By Anne-Marie Causer